If you're a big person, or if you've got a lot of weight to lose, you know that exercise is an important part of the weight loss puzzle.
You need exercise to help burn more calories than you are consuming, as well as increase your metabolic rate and tone your muscles.
One of the best ways to do all the above is to use an elliptical. These cardio machines are easy on the joints yet still provides a full-body workout so you can burn fat and lose weight.
OUR TOP CARDIO PICKS
Teeter FreeStep L3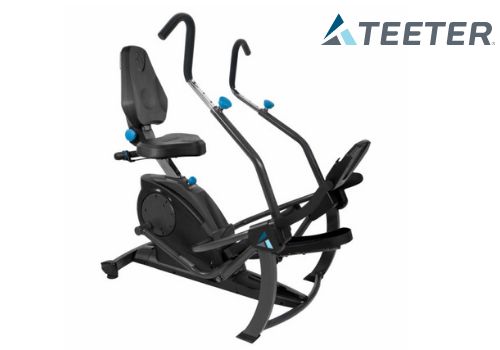 Check Price
Teeter Power10 Elliptical Machine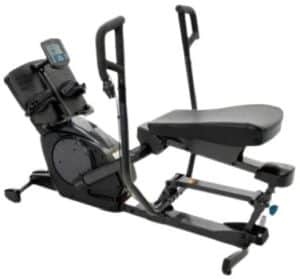 Check Price
Xterra Fitness FS3.0 Elliptical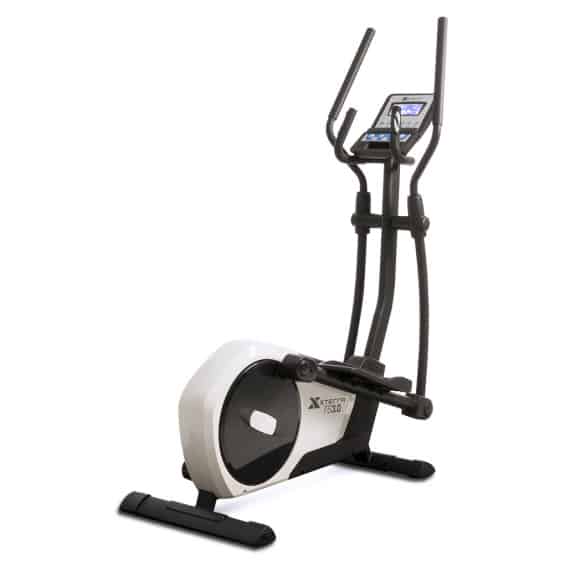 Check Price
Xterra RSX1500 Recumbent Stepper
Check Price
Schwinn 430 Elliptical Machine
Check Price
Bowflex Max Trainer M3
Check Price
Sunny Health & Fitness SF-E3912 Elliptical Machine
Check Price
If you've been shopping around, you may have found many affordable ellipticals but not all have the weight capacity to handle your weight.
Don't feel bad. I'm a big guy myself, and when I wanted an elliptical for my home gym, I really had to check around!
The good news here is that I've done all the work for you!
In this article, I'm going to tell you about really exciting, high-quality machines in all price ranges that can handle some of us heavyweights.
Don't waste your time doing comparison shopping, I've got all the info you need to know right here.
Best Heavy Duty Elliptical Machines
You will find that many people use ellipticals for a variety of reasons, but the most common reasons include losing weight and getting a full-body workout program from one piece of exercise equipment.
Maybe, you didn't know that some of the best, high-quality, heavy-duty elliptical machines are surprisingly affordable.
I'm going to show you the best heavy-duty elliptical machines that vary in price so you can find a machine that will fit your budget, as well as your weight requirements.
Let's talk about the ones that I have found to be top of the line.
The Teeter FreeStep L3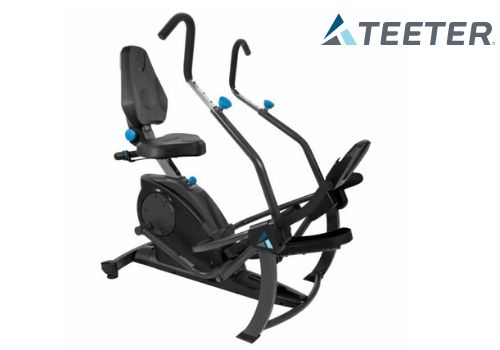 Chances are that if you, or someone you know, had physical therapy, you may have used a machine that looked identical to the Teeter FreeStep.
This is because it nearly is an identical machine, except that it costs thousands less!
I like the FreeStep because, not only can it handle big guys like myself, it is also zero impact. Read that again. Not just low impact but zero impact!
The FreeStep is a recumbent elliptical trainer that uses a linear motion, which means that the pedals step up and down, similar to your walking gait, and not around in a circle like a bicycle. For anyone with bad knees, the Teeter FreeStep is what you really need!
Some of the other features of this amazing elliptical machine include:
The maximum weight capacity is 300 lbs.
Whisper quiet stride means you can use it even if you live in an apartment.
The dual power motion gives you a challenging workout.
The zero friction system means a smooth workout experience.
It is equipped with an LCD monitor that tracks all the important data, such as time, distance, steps, calories burned, and more.
There is a built-in water bottle holder.
A tablet or media shelf allows you to watch movies or listen to music.
Teeter offers a free training app that you can access on your smartphone or tablet. No monthly subscription charges mean extra savings!
Commercial-grade engineering and materials will make the Teeter FreeStep work for years in your home gym.

There is so much more to the Teeter FreeStep than meets the eye. For anyone who has been injured and you're overweight, or maybe just a big dude, the Teeter FreeStep is the perfect machine for you.
This is a premium elliptical machine with a premium price, but when you consider what your health is worth, this is a small investment towards your weight loss and fitness journey.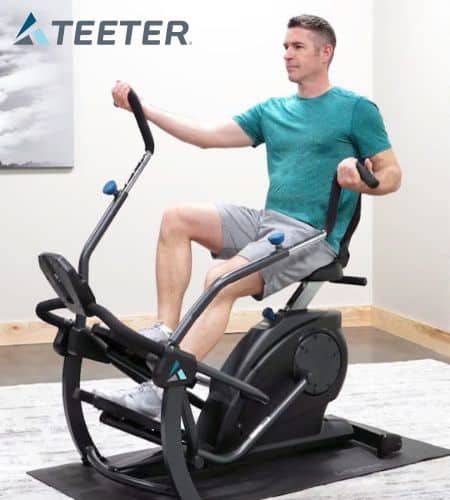 Is There a Weight Limit for Ellipticals?
All machines have some type of weight limit, even an elliptical machine. You could spend hours researching about the weight capacity of different machines or continue reading this article because I've done all the homework for you.
The Teeter Power10 Elliptical Machine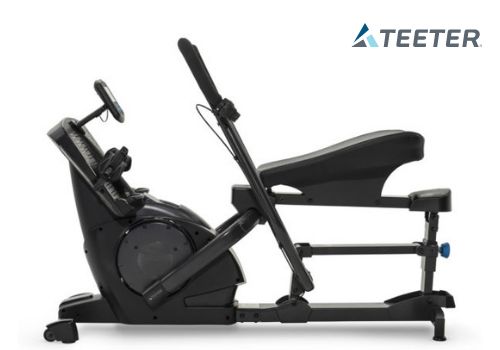 Technically, the Teeter Power10 is a heavy-duty elliptical, but it's called an elliptical rower for good reason.
Unlike other elliptical machines, the Power10 works nearly all the muscle groups in the body. The rowing action is in the seat, which slides back and forth, like a rowing machine. It doesn't use a bicycle or stepping motion like most other ellipticals.
That doesn't mean that this heavy-duty, high-weight capacity elliptical machine is for pushovers because this exercise machine is a beast of a workout!
Unlike other exercise machines, you need to push and pull on the handlebars. These handlebars are also multi-grip, so simply by changing the position of your hands on the grips, you can work an entirely different muscle group!
Other features of this elliptical trainer include:
300 lbs weight capacity
Fully adjustable seat and handles
The chest strap heart rate monitor is included. This is excellent since by tracking and monitoring your heart rate, you can get in the perfect fat burning zone and lose weight
The heavy-duty steel frame will last for decades
Works for users between 4′ 8″ and 7′ in height
The Teeter Move app is one of the few fitness apps offered for FREE. Nearly all other manufacturers require a monthly subscription.
Magnetic resistance gives you the ultimate in quiet operation
The digital performance monitor tracks all of your important data during your workout routine, such as calories burned, strokes per minute, distance traveled, and more
Transport wheels making moving this elliptical cross trainer easy for nearly everyone
I own a Teeter Power10, and I have to say that this is one of the most rewarding cardio machines ever! I really like mixing up my cardio, and whenever I jump on the Power10, I'm always surprised at how easy it is to use, not to mention the way that the multi-grip handlebars make me work muscles that tend to get neglected during other exercise routines.
If you are interested in a powerful workout, and you love burning calories like a volcano, you will want to try the Teeter Power10.
And try it out you can because Teeter is offering a 30-day in-home trial period. If you don't love the Power10, you can return it and owe nothing. How is that for easy?!
The Teeter Power10 is one of the best heavy-duty ellipticals offering nearly unlimited types of workout programs, all at no charge. If you want to lose belly fat, never become bored, and get a workout that will have you losing weight faster than you ever thought possible, the Teeter Power10 would be the perfect answer for your home gym.
What Happens If You Exceed the Weight Capacity on an Elliptical Machine?
It's possible that nothing will happen. I've heard stories of guys weighing 400 lb who worked out on a 300-lb weight capacity machine and did not experience any problems.
Similarly, many people would insist that high-quality, heavy-duty ellipticals are capable of handling anything from 250-450 pounds, but personally, I wouldn't risk it.
There's a reason that manufacturers put X lb capacity limits on their machines. When this weight limit is exceeded, there is a good chance that the elliptical cross trainer will break, especially if you regularly do high-intensity workouts on the machine. If that happens, it will not only cause disappointments, but it may also injure you!
Be safe and stay within the weight limits of the machine you have chosen.
Of course, if the elliptical trainer you want to buy has a weight capacity of 300 lbs and you weigh 302, I don't think you have anything to worry about.
Xterra Fitness FS3.0 Elliptical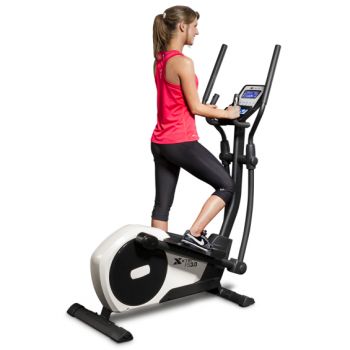 If you're interested in an elliptical trainer that has a high lb weight capacity, but you don't have the cash to shell out, I highly recommend the Xterra Fitness FS3.0 elliptical trainer.
This is a basic, easy-to-use machine that still offers elliptical exercise but very reasonably priced.
Xterra Fitness makes high-quality exercise machines that you can count on for reliability and comfort.
The FS3.0 has 20 levels of electronic resistance to continually make you feel challenged as you make progress. It comes equipped with a backlit LCD digital display that is easy to read, even in darker rooms.
Other features of this heavy-duty elliptical include:
300 lb weight limit
While this does not have a free app or a personal trainer, it does have 18 preset workout programs to help you improve your fitness level.
The built-in heart rate monitor is easy to use and has sensors on the handgrips.
The stride length is 16 inches.
Oversized foot pedals fit all shoe sizes
You can go both forward and reverse, unlike other elliptical trainers.
There is a built-in speaker for music.
An accessory tray is built-in so you can safely place your cell phone or tablet on it and watch movies, listen to music, or watch exercise videos online.
This is a terrific heavy-duty elliptical that has many of the features that more expensive elliptical trainers have but at a lower price.
This is the perfect fitness tool for anyone who needs a heavy-duty elliptical with a high lb weight capacity. Xterra Fitness offers several models, so you might want to check out everything they have in their range of workout machines.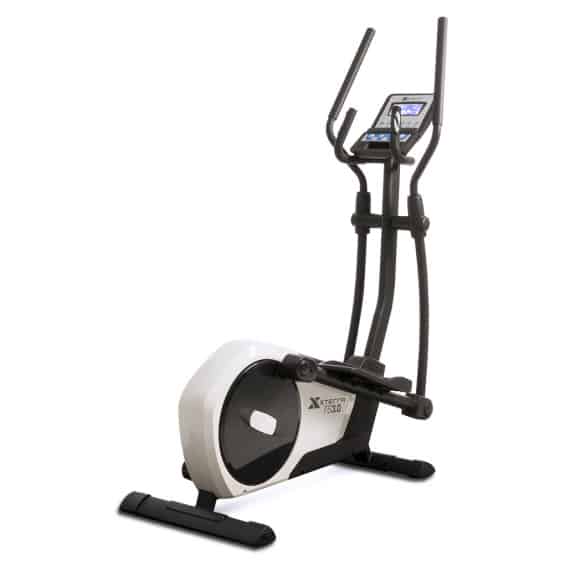 Is the Elliptical Good for Obese People?
Compared to other types of exercise, such as a stationary bike, running, or using a treadmill, yes! The best workout solutions are elliptical machines for heavy people because these cardiovascular machines are easy on the joints. For people who have back problems in addition to their higher weight may find some high-capacity recumbent bikes or recumbent ellipticals more beneficial to them.
If you stay within the suggested maximum user weight, these machines are durable, easy to use, and are full-body workout machines that offer a comfortable workout.
Xterra RSX1500 Recumbent Stepper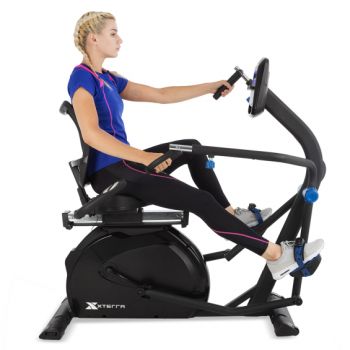 Have you ever used a recumbent bike? Personally, I found that they were pretty boring and they only work the lower half of your body. This means that you will burn fewer calories.
This is where a recumbent stepper, such as the Xterra RSX1500, becomes very important. You work both the upper and lower body, and you don't get as bored.
This is another one of the high-weight capacity ellipticals that will not only burn calories but also give you cardio exercise, which you need in a workout routine.
This machine only has a 13″ stride length, but you probably won't notice that it is a few inches shorter than some other elliptical trainers since you will be working your upper body at the same time.
When it comes to losing weight, the more muscle groups you engage and the more intense you do your workouts, the faster those excess pounds will come off.
This is a full-body workout machine that is low impact, and the recumbent seat makes it perfect for anyone with back pain.
Other features of this low impact recumbent stepper include:
Weight capacity is 300 lbs
The walk-through frame makes it easy for everyone to get on or off the machine
The backlit LCD digital display monitors speed, distance, calories burned, and heart rate
Fits users up to a height of 6'2″
Magnetic resistance is super-quiet, so you don't disturb anyone else while you're working out
The seat is contoured, padded, and adjustable for extra comfort
The backrest has a mesh insert so it breathes
Has audio jack with built-in speakers so you can listen to music
There are 13 preset workout programs for you to choose from
If you wonder how well the Xterra RSX1500 Seated Stepper will hold out over the years, consider this: there is a lifetime warranty on the frame and the brake. Xterra knows that this elliptical will hold up to heavy users and their warranty proves their confidence in their product!
You can use a recumbent bike or step up your game with this amazing heavy duty elliptical.
For anyone with back problems who wants some help on their weight loss journey, the Xterra RSX1500 stepper is the perfect elliptical exercise machine.
How Long Should I Be on the Elliptical to Lose Weight?
Everyone is different, and your weight loss results will not be the same as someone else's.
With that said, workout data has shown that you should try to get elliptical exercise for at least 30 minutes.
If you can't sustain a full 30-minutes, do as much as you can, then slowly increase the amount of time you spend exercising.
A normal workout routine is 30-60 minutes for those who want to lose weight. The good news here is that the more weight you have to lose, the faster you will lose it.
Work out as long as you can and then try adding one minute to your time every other workout. Interval training is also terrific for losing weight.
Schwinn 430 Elliptical Machine
You are already familiar with the Schwinn name. Chances are that you've ridden Schwinn bicycles. Did you know that Schwinn also makes a heavy-duty elliptical as well?
This elliptical machine will help you attain improved cardio and muscle strength and help you shred fat ( you might also like to read best cardio machine for bad knees ), even hard-to-lose belly fat.
This piece of high-quality exercise equipment has 22 levels of resistance, but unlike other heavy-duty elliptical trainers, this one uses a computer-controlled system so that you never have to change the resistance level yourself!
I like this compact elliptical not only because it has a high weight capacity, but also because it offers everything you need and none of the fluff that you don't.
Some of the best features of the Schwinn 430 elliptical are:
300 lb max user weight
Dual Track 2 LCD screens. One shows the current program, the other your data
Goal Track capability enables you to set individual exercise goals by tracking time, distance, and calories then compare them to your previous workouts
The 20″ precision path simulates a walking or running motion, not a circular motion like exercise bikes
There are both moving and fixed handlebars. You can read your heart rate using the pulse monitors in the fixed handlebars or work only the lower half of your body
22 preset workout programs help you reach new fitness levels and maximize calorie burn
A water bottle holder is built-in
Nearly silent operation means you can use this exercise machine even if you live in an apartment building or have infants sleeping
For a low-impact workout, the Schwinn 430 elliptical is the perfect elliptical machine for your home gym.
While many elliptical trainers don't have high weight capacities, the Schwinn 430 has a reasonably high weight limit, making it the perfect machine for your weight loss journey.
Can You Lose Belly Fat by Using an Elliptical?
In a word: Absolutely!
Elliptical machines can help heavy people burn calories and increase their heart rate during workouts. Even a budget elliptical is capable of increasing your heart rate, which is what you need to burn fat.
While you can't spot-reduce, you can lose weight all over your body, including that stubborn belly fat if you work out on your elliptical trainer regularly and reduce your calorie intake.
The Bowflex Max Trainer M3
Did you know that ellipticals are among the top 5 machines for losing weight according to an article in the NBC News? Then you might as well get the best heavy-duty elliptical that you can afford, right?
You know the Bowflex name, but you may not have known that they also make an elliptical trainer.
There are several models to choose from in the Max Trainer series, so I'm going to review the M3, which is the more affordable option.
This is a terrific elliptical machine because it combines the power of a stair stepper with the full-body workout you get from an elliptical.
Elliptical exercise offers you health benefits and weight loss even if you only have 15 minutes a day to exercise.
What I love about the Bowflex is that the interactive backlit display not only tells you the usual data, such as calorie burn and distance, but also the target zone and burn rate indicators. These additional metrics will motivate you by setting targets to help you achieve your fitness and weight loss goals.
Who needs a personal trainer when you've got the Bowflex Max Trainer? That's not all. Bowflex Max Trainer M3 also boasts of the following features:
This elliptical can handle a heavy person up to 300 lbs
8 levels of resistance that can be easily changed with the twist of a dial
You can set up two individual profiles per machine
Includes a chest strap for accurate heart rate measurement
The water bottle holder is within easy reach
Includes a media shelf for your book, tablet, or smartphone
Super compact design means this elliptical machine will fit where treadmills don't
Beats a recumbent exercise bike by offering 14-minute HIIT workouts
The downloadable Max Trainer app offers a variety of workout programs. Unlike other fitness apps, this one is free.
If you're short on space, you'll be happy to note that this elliptical trainer is only 3'10" long and 2'1″ wide. That's smaller than most closets!
What I really like about this elliptical trainer are its display and the data it provides, the 14-minute workout programs for dropping those extra pounds, and for telling you the truth about how many calories you're actually burning.
So if you're looking for an elliptical for a heavy person and you need one that doesn't take up a lot of room, the Bowflex Max Trainer M3 would be ideal.
Do Ellipticals Build Your Booty?
I get it, everyone wants a big, round booty. In addition to losing weight, you want firm muscles and tight behind, right?
You can get that even with a heavy-duty elliptical.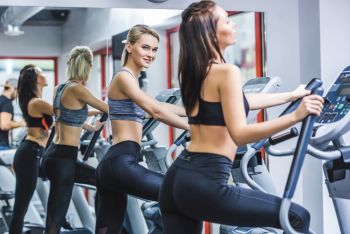 Choose an elliptical machine that uses a stepping motion, like a stair climber, rather than the circular motion that most exercise bikes use. Stepping backward on your elliptical is one of the best ways to get that booty working!
A high-quality machine will allow you to go backward and build those glute muscles to the max!
The Sunny Health & Fitness Advanced Programmed Elliptical Machine
Check Price
While an elliptical for heavy people can be a bit on the expensive side, I've found one from a reputable company that is very budget-friendly.
Sunny Health & Fitness is a fairly new company, but they are offering high-quality products that really hold up to use and to a heavy person's exercise routine.
As a budget heavy-duty elliptical, you might be surprised to find that this less expensive version, the SF-E3912, has many of the features that a regular elliptical offers.
You'll still get the low-impact exercise that you're after and enjoy a nearly-silent workout, thanks to its belt-driven magnetic resistance!
Let me tell you more about this machine:
This is one of the best high weight capacity machines I've seen, especially at this price, supporting users up to 330 lbs
The backlit performance monitor tracks your speed, time, distance, calories burned, RPM, and current magnetic resistance level
Integrated table holder or smartphone shelf means you can listen to music, podcasts, or watch your favorite program while doing a workout
16 adjustable resistance levels mean that you will always feel challenged
24 built-in workout session programs
Provides a full-body exercise
Built-in pulse sensors allow you to monitor your heart rate
The 15.5-inch stride length is perfect for nearly all users
This also features a built-in water bottle holder
This is an outstanding elliptical/cardio machine for the price! It's as if Sunny Health and Fitness listens to every complaint to build the best elliptical machines for heavy persons.
If you are bored with stationary bikes and want to drop those extra pounds faster, this reliable machine from Sunny Health and Fitness might be just the elliptical you are looking for.
At the End of the Day
The truth is that the best elliptical machine is the one that you will use. I see too many ellipticals sitting in a bedroom, being used as a closet or clothes hanger.
All of the machines above will be very useful in dropping that extra weight almost immediately, especially if you're extremely overweight or if you haven't exercised in quite some time.
Choose the machine that you like best and buy the best machine that you can afford. You will not enjoy working out on a machine if you're worried about how you will make the next payment.
Elliptical machines are very helpful for anyone who wants to improve strength, increase their fitness level, and/or lose weight and extra fat.
Be consistent, be patient, and keep working out even when you don't feel like it. You will feel better than you ever thought possible, and you will love the way you look in the mirror.
Who doesn't want more of that?