Many things in this life are uncertain, but one thing I can't help but notice is that home exercise machines are becoming more and more popular.
Which, in my book, is a good thing. The big gym chains are usually overcrowded, there's never enough parking, it seems as though half of the machines don't work so you need to wait in line, and traffic never gets better, does it?
With a piece of home gym equipment (read my list of the best elliptical machines for home gyms ) , you can get your exercise time at your convenience, play the music you want to hear or news channels you want to watch, and guess what? The bathrooms are always sparkling clean!
The trick is to get the perfect piece of exercise equipment for your home gym. What is the perfect home gym workout equipment? The one that you will use of course!
There are so many different types of equipment out there, it can be hard to pick the right one. Should you go with the traditional treadmill, a stair climber, or an assault bike?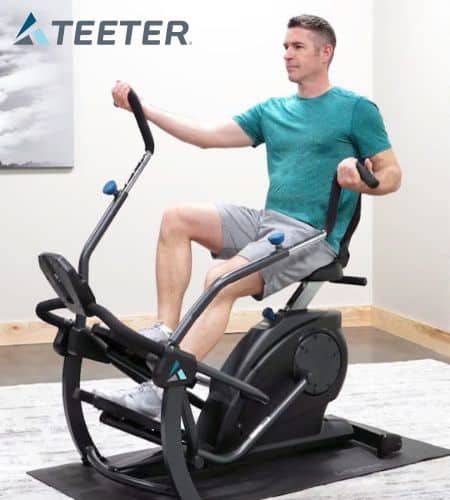 If you want to get a full-body workout and spend less time exercising, not to mention a workout that is zero-impact so it's easy on the knees, back, and hips, then there is only one machine you want to consider: an elliptical.
In today's article, I want to tell you about an amazing recumbent elliptical that is unlike anything else I have ever used. The Teeter FreeStep.
If you want unique, if you want to protect your joints, and if you want the best piece of gym equipment that you can buy outside of your physical therapist's office, then keep reading, because you are talking about the Teeter FreeStep.
The FreeStep LT3 Recumbent Cross Trainer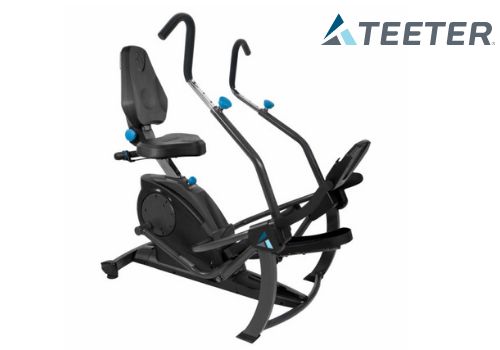 If you were ever injured so bad that you had to see a physical therapist, then you may have used a similar fitness machine at your physical therapist's office.
The Teeter FreeStep LT3 is almost identical to that recumbent cross trainer that you used at your doctor's office but at a fraction of the cost.
Roger Teeter founded his own company after he suffered extensive back pain for years. He created inversion tables to help relieve his pain and has since created numerous exercise machines, helping people with joint pain get the exercise they need.
Today, the company is well-known for making ultra-high quality fitness machines and inversion tables for people with injuries, arthritis, or back pain, enabling them to get the exercise they need so they can live the life they want.
What Is a Recumbent Cross Trainer?
The word recumbent means that this piece of equipment has a seat and seat back, so you can sit down while you exercise.
A cross trainer means that it does more than one type of exercise. In this case, a recumbent bike combined with a stair-stepping elliptical.
Recumbent cross-trainers are fantastic for those with joint injuries, arthritis, disc degeneration, or other types of health problems that make other types of fitness equipment too painful to use.
While cross trainers are a great way to do cardiovascular exercise and strength training in one, recumbent versions like the FreeStep are the perfect answer for anyone with back pain, back injuries, arthritis in the spine, and even those with balance problems.
Experience has shown me over and over again that anyone, regardless of age or fitness ability, can improve muscle toning, strengthen back muscles, and lose weight simply by using a fitness machine that will give them a cardiovascular workout.
The trick here is to find the right machine, and I think the answer for nearly everyone with joint pain or who has been injured is the Teeter FreeStep cross-trainer.
Let's take a look at what the FreeStep offers.
Features of the Teeter FreeStep LT3 Recumbent Cross Trainer
While this machine doesn't cost anywhere near as much as the commercial-grade equipment in your doctor's office, that doesn't mean that it isn't sturdy.
The patented UltraGlide bearings offer a frictionless motion at all movable joints. This results in a long-lasting and easy gliding motion you're sure to notice from your first step.
Other features of the FreeStep LT3 Recumbent Cross-Trainer include:
The assembly and set-up are so easy, nearly everyone can do it. There is a 3-D instructional video to help you along.
The seat is completely adjustable. Not just the seat, but the backrest as well! The ComfortSelect seat on the LT3 model is so nice, you might want to sit on it even when you aren't exercising! Keep in mind that the ComfortSelect feature is only available on the LT3 model, not the LT1 model. If you have back problems, you will love the ComfortSelect seat!
The well-placed transportation wheels make moving and storing this device very easy.
The patented stride technology is more like your natural walking stride that uses a natural stepping motion, not a circular motion like riding a bicycle or other trainers.
This is a zero-impact recumbent cross-trainer. Not just low-impact, but zero-impact. If you have arthritis, back problems, or other health issues, this is exactly the machine you need to keep up with your exercise program.
Like all cross trainers, you can choose to exercise just your upper body, only the lower body, or do full-body recumbent training on a single machine!
Using dual-power motion, this recumbent cross trainer evenly distributes your muscle exertion over your entire body, so you don't become tired as quickly as you do on other machines. This also causes your body to burn more calories than you will on any other elliptical!
The SureGrip handles have multi-positioning options, so you can work different muscle groups simply by changing the position of your hands on the grip surface of the handles.
The patented Whisper-Quiet technology means you can use this machine in your apartment or while your significant other is sleeping.
The LCD digital console tracks your time, distance, speed, and calorie-burn.
The free Teeter Move App gives you lots of workouts based on your ability levels. Did you notice the word Free? I love that word! Sure beats paying for a monthly gym membership!
Built-in water bottle holder
The tablet holder or smartphone shelf makes watching your favorite workout video, music, or television show a breeze.
The oversized, SoftStep pedals have a rubber tread overlay for extra cushioning and anti-slip properties. The SoftStep pedals are only available on the LT3, not the LT1.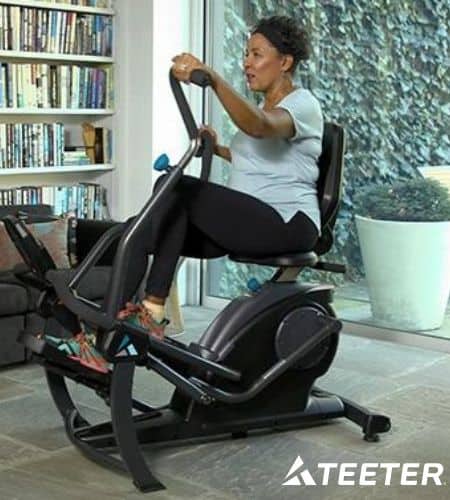 I want to mention that there is a less expensive model, the Teeter FreeStep LT1. It costs less but is missing some of the features above, and it only has a one-year all-inclusive warranty.
If some of the features above are not important to you ( the SoftStep pedals and ComfortSelect seat, for example), then you might want to save some cash and go with the LT1.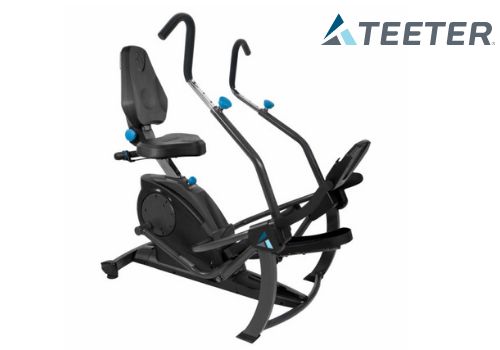 The LT1 still has the same striding motion, muscle-targeting handles, and high-quality ball bearings. It only lacks a few of the more comfort-related items.
What Is the Difference Between the LT3 and the LT1?
There is so much more to the LT3 recumbent cross trainer than meets the eye! You really need to use one to feel just how smoothly the Teeter FreeStep LT3 actually feels.
That's why Teeter is now offering a free, 30-day trial offer. Try out the LT3 in your home free for 30 days. If you don't think that the LT3 is everything you hoped it would be, you can return it for a full refund.
Wow! That's an awesome offer! I can't imagine anyone actually returning one of these machines, but if for some reason you decide you don't like it, you haven't lost one dime!
I'm not sure how long this offer will last, so you might want to get in on this terrific deal before it disappears.
Customers love the FreeStep LT3. Read the review sites and you will see that a customer who rates it 5 stars on several sites must be so impressed that they took the time to write their review more than once!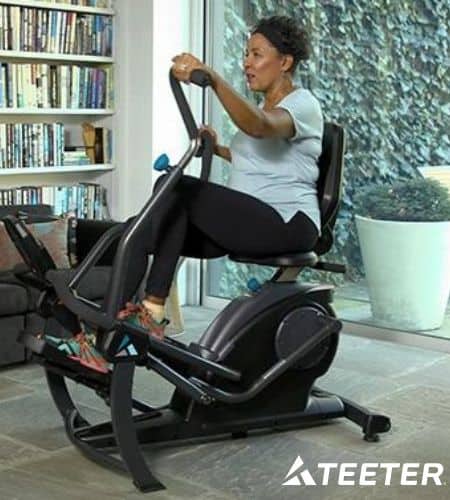 If you opt for the LT1, you'll save around $135, but miss out on the 2-year extended warranty, SoftStep pedals, ComfortSelect seat, SureGrip handles, and UltraGlide bearings. For both models, you'll enjoy the same mechanical design elements that make the FreeStep outstanding, and these include the stepping or stride motion, greater motion sensitivity, and the total-body results dual-power motion.
So why not try the FreeStep for yourself? You have nothing to lose but some excess weight and so much to gain!
Teeter FreeStep Assembly
The Teeter LT3 Recumbent Cross Trainer comes partially assembled. That's one way to cut your work in half right out of the box!
I love that Teeter has foreseen possible problems and has gone out of their way to make things easier for the consumer. There is a 3-D instructional video using the BUILT app that makes assembly so much easier than you might have imagined.
A customer should be able to put together this recumbent cross trainer in 60-90 minutes.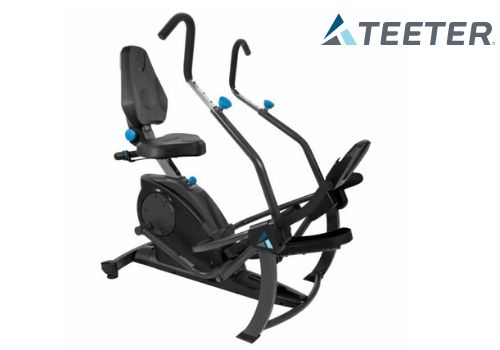 Once you start assembling the Teeter FreeStep, you will feel and see the high-quality materials this recumbent cross trainer is made from!
Teeter FreeStep Accessories
If you like to customize your workout equipment, you have a lot of options with the LT3 version of FreeStep.
You can purchase the heavy-duty equipment mat to keep the surface area under the Teeter FreeStep LT3 clean and protected.
This mat also keeps the FreeStep LT3 recumbent cross trainer more stable as you work out.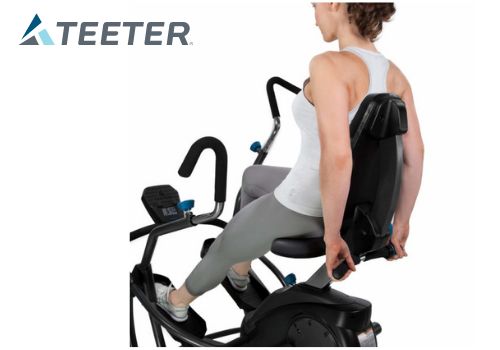 You can also purchase an extended warranty of an extra year for a very small price. Best of all, this additional warranty is transferable if you should need to sell your LT3 recumbent cross-trainer.
The regular warranty on the FreeStep LT3 recumbent cross trainer is two years all-inclusive.
The Final Word
The Teeter FreeStep LT3 recumbent cross trainer is fairly easy to assemble, set up, and start using, and at the same time, it's incredibly effective.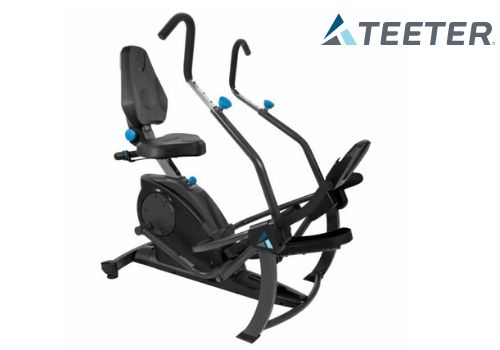 Whether you want to lose weight, get a cardio workout, or just see body results (such as stronger legs and arms), the FreeStep LT3 recumbent cross trainer is the solution you have been looking for.
Anyone who wants strength training with less body fatigue is going to be impressed with this recumbent training machine by Teeter.
Overall, I think that the Teeter FreeStep LT3 recumbent cross trainer is a smart investment that will pay off more than other fitness machines that you may not be able to use without joint pain.
P.S. for People with Back Pain
Doctors and physical therapists often tell patients with back pain to skip the back pain relief products, such as pills or over-the-counter medication, and try to work in some exercise using recumbent trainers.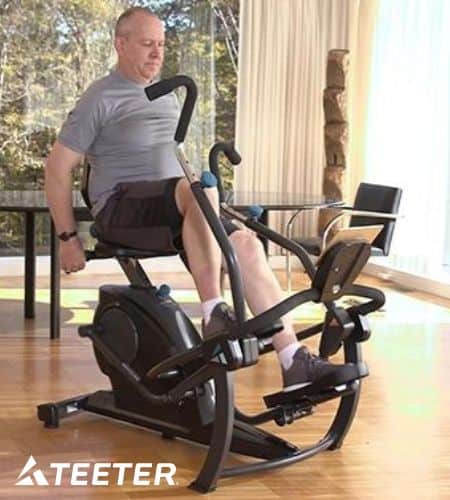 You will find that if you suffer from spinal stenosis, degenerative disc disease, arthritis, or if you have sciatica or a herniated disc, the Teeter FreeStep is an excellent recumbent cross trainer that you can use at home any time you like.
I also wanted to mention that Teeter also makes an inversion table called FitSpine. These inversion tables work by using gravity to create a small amount of space in between the vertebrae and helping to keep the spine properly aligned. That small amount of space prevents pinched nerves and gives the nerves the room they need. This prevents back pain like nothing else!
Studies have found that regularly using an inversion table can help prevent spinal surgery and disability due to back pain.
Anything that can possibly prevent back surgery seems like a real winner in my book.
I've personally used the FitSpine, and it has been a true lifesaver, no exaggeration. I love it so much, I never go a day without using it.
You may have even used something similar in your chiropractor's office. Inversion tables like the FitSpine feel so good and they have made such a huge difference in my life, I wanted to mention them to you.
Frequently Asked Questions
1. How much does the Teeter FreeStep weigh?
Not as much as some other brands of cross trainers but it weighs enough that, at 110 pounds, you won't feel it shaking under your weight.
2. What is the weight limit on the Teeter FreeStep?
The Teeter LT3 has a weight capacity of up to 300 pounds. This is far more than the capacity of most other cross trainers and indicates a solid frame and heavy-duty, high-quality build.
3. How do you use recumbent elliptical cross trainers?
Recumbent elliptical cross trainers are better than regular recumbent bikes since they offer a full-body workout. Of course, you can use the Teeter FreeStep like a recumbent bicycle and work only your legs, but using both the SureGrip handles and the striding motion of the legs will give you a far better workout than either of these two by themselves.
4. Are recumbent elliptical cross trainers a good workout?
Yes, they do! Recumbent cross trainers provide an excellent means of getting cardiovascular exercise and calorie burn without damage to the joint or low back pain.