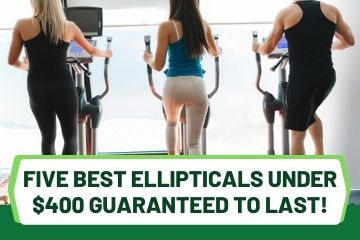 More and more people are becoming aware of the importance of regular exercise and its benefits to the mind and body, but not everyone enjoys sweating in a crowded gym. They'd much prefer the comfort and peace of their own home. I know; I do.
OUR TOP CARDIO PICKS
Xterra Fitness EU100 Hybrid Elliptical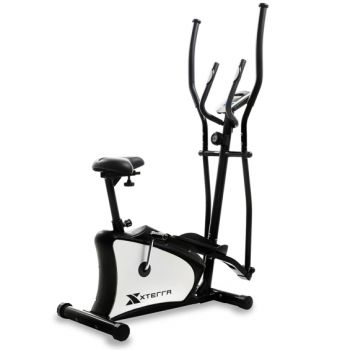 Check Price
Sunny Health & Fitness SF-E905 Elliptical Machine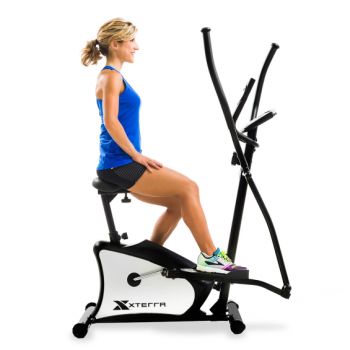 Body Power 2-in-1 Elliptical Stepper Trainer
Check Price
Body Rider Body Flex Sports Elliptical
Check Price
Sunny Health & Fitness SF-E902 Air Walk Trainer Elliptical
Check Price
That's why you'll often hear the term 'elliptical' among gym and fitness aficionados. When it comes to a perfect, all-around workout at home, an elliptical trainer should rank high in your options!
Now, to find one for your home gym, you must choose good quality elliptical machines that pack a full punch yet remain affordable to many. In this article, we're going to look at the top 5 budget elliptical trainers under $400!
If I were you, I'd already be sold. You get the perks of your gym routine in one machine and in the quiet comfort of your home at a fraction of the cost you spend on gym membership, gas money, and parking fees. And if you have a dollar equivalent for the waiting time and inconveniences of working out in your local gym, then you may as well add that to the total cost .
After going around and trying out different types of ellipticals in the market, I've narrowed down my list to the top 5 affordable elliptical machines. Let's talk about my favorite one first.
Xterra Fitness EU100 Hybrid Elliptical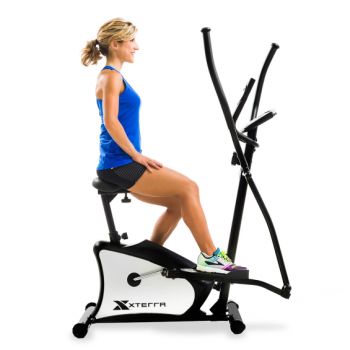 The Xterra Fitness EU100 Hybrid elliptical trainer delivers a full-body workout with its 2-in-1 design.
You have the benefits of a joint-friendly workout on an elliptical machine, combined with the weight support you get from the seated upright bike. You may opt to use it seated or standing, targeting different sets of muscles as you vary your position. Its compact design is space-saving, which is a necessary quality for some people.
How Does this Elliptical Trainer Work?
Like in traditional ellipticals, you only need to stand or push on the pedals and do the stepping motions with the machine's 13-inch stride length. It operates using a magnetic resistance mechanism, ensuring that you get to enjoy a smooth and quiet workout all the time. There are 8 levels of magnetic resistance to choose from, depending on how intense or relaxed you want your workout to be.
What Features Does the EU100 Hybrid Offer?
The stepping motion offers a stride length of 13-inches.
Its 11-lb flywheel works with frictionless magnetic resistance system for a smooth workout experience.
You can easily choose from 8 adjustable resistance levels.
It has two sets of elliptical arms to work out your upper body muscles as well.
A 3.7-inch LCD monitor will help you keep track of your progress; it works with handlebar-mounted pulse sensors to monitor your heart rate.
The seat is padded and adjustable – not just sideways, but forward and back, too! It doesn't matter what size you are; you can enjoy a great workout!
It has a maximum user weight capacity of 265 lbs – one of the highest in this list.
Compact size of 42.5″ x 24.5″ x 61.5″ (L x W x H) when set up.
It comes with a 1-year warranty on frame, brake, and parts.
Honestly, nothing fits my average-sized workout room like this bad boy. Its sleek and compact design takes up very little space and is easy to move around and store. Nothing like those bulky, exercise machines that crowd up floor space and cost a fortune.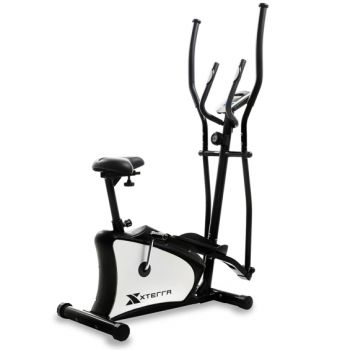 All in all, a great choice!
Sunny Health & Fitness SF-E905 Elliptical Machine
This right here is just as good as any traditional elliptical machine out there.
The Sunny Health and Fitness SF-E905 provides low-impact cardio for both lower body and upper body workout.
This magnetic elliptical trainer is a stand-only unit, featuring large anti-slip foot pedals that work in sync with moving handles. There are stationary handlebars as well to vary your workout patterns.
SF-E905 features
In-built pulse sensors make it easy to keep track of your heart rate while you exercise.
The digital display makes it easy for you to keep an eye on your burned calories, distance, run-time, and heart rate as you exercise.
Like the Xterra, you've got 8 levels of magnetic resistance that you can adjust accordingly. There's a conveniently placed tension knob that you can twist to set your preferred resistance while working out, allowing you to engage different muscles with every level for a satisfying, full-body workout.
Given its traditional elliptical status means it is extremely lightweight and without protrusions. Besides this compact frame, it also comes with transportation wheels. Just tilt the machine up to maneuver it to your gym room or studio.
It barely takes up any floor space and the smooth flywheel magnetic rotation makes very little noise. Great to use while watching TV!
The floor stabilizers on the Sunny Health elliptical bike make it steady as rock while in use.
It offers a comfortable 11-inch stride, a couple inches shorter than the stride length of Xterra.
The SF-E905 is so compact it is perfect for any in-home gym. Its dimensions are: 28″ x 17″ x 57″ (L x W x H).
Maximum user weight is 220 lbs – easily the average weight of a big person.
For this one, I have to say it's more suited for people who want a low-key setup and are looking for something that's easy to use to keep them motivated!
Sure, the SF-E905 is limited when it comes to functionality, but it's a great investment nonetheless!
Body Power 2-in-1 Elliptical Stepper Trainer with Curve-Crank Technology
Here's another standing elliptical machine, but it's not as traditional as it looks.
The Body Power Elliptical Trainer has a 2-in-1 feature; it's both an elliptical machine and an exercise stepper.
What does that mean? Well, the elliptical stepper has an oval path rather than the traditional circular one, allowing for a full-body elliptical workout plus the benefits of a vertical climber.
These combined features make a full HIIT trainer, targeting all the right muscles and really getting your heart pumping.
Features of the Body Power Elliptical Machine
Curve crank technology sounds fancy, doesn't it? The curved crank provides constant tension and ensures not only smoothness but efficiency in your stepping motion.
You can easily adjust the resistance using the ergonomic crank and even do it in the midst of your HIIT session.
This compact elliptical comes with a built-in LCD display window where you can track the time you've spent working out, and other factors including speed, distance and calories burned. It also has a built-in media shelf for your gadgets.
You can easily adjust your workout intensity with 8 levels of resistance to choose from.
It has a maximum weight limit of 250 lbs. This higher weight capacity makes this elliptical ideal for homes with several users of different body weights, shapes, and sizes.
Its small foot print of 42″ x 24″ x 62″ will barely crowd up a room, making it perfect for your home gym.
Weighing barely 97 pounds and equipped with a front roller, it's also exceptionally easy to relocate to your taste and need.
There are 2 sets of built-in foot pedals – flat open-back and angled platforms.
Now, this was definitely a total body workout, I have to admit. Definitely a step up from a traditional elliptical bike, and a great addition to a home setup.
Body Rider Body Flex Sports Elliptical Exercise Machine
Here's another brand in our list of high-quality but affordable ellipticals. If you're looking for an elliptical machine that really packs a punch, you shouldn't miss this.
The Body Flex sports elliptical offers a rigorous cardio exercise for those who want maximum output, while also offering an option for something more relaxed when needed.
One size fits all!
The thing about this fitness elliptical machine is that anyone can use it! I'm in my thirties and love to exercise, and this machine hits the right spots for me. I can see anyone younger or older or more physically active can use it and still be happy with it! Because it's an elliptical machine, it's dynamic yet low impact.
Important Features of the Body Flex
The alternating handlebars keep your arms engaged while your legs propel you. This means our machine can provide a killer upper and lower-body workout, targeting glutes, arms, back, and even core muscles. You can expect incredible results in no time!
There's an easy-to-access friction knob to adjust resistance levels.
It is equipped with a smart digital computer that displays workout metrics, including speed, distance, calories burned, and time.
Its compact and portable design – measuring only 38.58″ x 9.06″ x 24.8″ – will definitely solve your space limitations.
You'll love its workout video guide; I did! The workout programs are particularly helpful for newcomers, so there's no reason to be nervous if you're a beginner.
It's definitely a cool addition to your personal arsenal of exercise machines, even if that arsenal has a grand total of only one weapon.
Sunny Health & Fitness SF-E902 Air Walk Trainer Elliptical Machine
Now, this is something that stands out from what I normally review.
The Sunny Health and Fitness SF-E902 Air Walk Trainer provides an invigorating aerobic workout. Not only do you get a total-body workout, but you also reap the benefits by simulating sports and outdoor activities like running, skiing, and aerobics!
All this without the jarring impact or damage to your body. Yes, go read that again! It's like a 5 in 1!!
Features of the Air Walk Trainer Elliptical Machine
Non-slip pedals synchronizes with the handlebar motion, simulating a slow walk that can work up to a full run without interruption!
Like all great ellipticals, the Air Walker exercise machine also acts as a full-body cardio workout.
20 minutes of cardio workout on this machine is enough to help you improve your cardio-respiratory health and reduce or maintain your weight.
It folds to about half its original size (15″ x 19″ x 61. 5″)! So, when in use, it barely takes up any space, and when it's folded, you won't even notice it in the room!
Its informative LCD monitor displays time, count, total distance, and calories.
Step up your comfort with the adjustable abdominal pad. You can move it up and down to ensure proper support and placement.
It works for users up to 220-lb weight capacity.
With a whopping and much longer stride length of 30 inches, this bad boy can really take you all the way to the best kind of elliptical motion!
A Few Downsides
There's only one resistance level for all. Well, I guess the long stride compensates for this fixed resistance.
It also has no pulse monitor. Its compact size and light weight also mean it comes without any added transport wheels. But don't worry, it's easy to lift and move around still!
All in all, this is still a machine I would use again. Definitely something to add to your home gym, and probably the easiest to get used to! That 30-inch stride length is definitely something you can't ignore.
What Is the Best Elliptical Machine for Home Use?
You've just read our list for the best ellipticals under $400. We've looked over the best ellipticals within the 400-dollar budget range and other qualities that make them the best choice for home use.
People like you and me probably look for the same things when it comes to selecting the best fitness equipment to invest in. So, I have a personal verdict here, and I'll tell you why!
The Xterra Fitness EU100 Tops Elliptical Machines Under 400!
First of all, It's like all the basic gym routines in one machine!
You've got the rush of a good cardio exercise with the elliptical stepper motion, targeting certain muscle groups of your body. Then, you also have the option to slip into an upright exercise bike, stimulating different muscles while resting others. It's always better to interchange styles when working out, so you don't get bored and to continually challenge your body!
You have upper and lower body exercise, with minimum damage to the joints. Who wouldn't want that?
Buying one machine is enough, and it'll fit right into a home set up with its reasonably compact size and weight.
What Is the Best Elliptical Machine for the Money?
This list contains all the best ellipticals under the price of $400.
Now, ideally, that kind of budget won't get you a great cardio workout, and most machines with that benefit tend to be costly and out of reach for a home set-up.
Fortunately, there are still some really good machines out there that are perfect for your home gym and easily affordable. If we're talking under the 400 mark, the best machine should be one that delivers the best functions for its price.
Another personal verdict!
In my opinion, the elliptical that offered the most variety when it came to practicality and end results would be the Xterra Fitness EU100 Hybrid Elliptical.
Think about it, it's already a reasonable price at under $400 dollars, but it comes with the important features you need in a fantastic elliptical workout.
Sure, if I had to choose a second option, I'd probably go for the Sunny Health & Fitness SF-E905 Elliptical Machine. With its additional features, it's definitely a close second to the Xterra.
But, I prefer my elliptical to come with an adjustable seat feature; it gives a better range of motions and allows to change things up during a home workout. The SF-E905 is stand-only, that's why it's pushed to second.
So, the Xterra remains at the top of my list. It's definitely a great buy!
In Conclusion
Elliptical machines are a significant investment for your health and well-being. That's why it's so important to choose the right one. You'll have to take into account your budget, requirements, and space before getting your hands on one.
If this is your first time buying an elliptical, a budget of $400 is more than enough for a start. What we've featured here are far from premium ellipticals, of course, but they're more than adequate for beginners or people looking for a low-impact exercise machine at a budget price.
Any of the five ellipticals listed here will help you accomplish your fitness goals at an affordable price. Unless you're a serious athlete planning to do high-intensity training multiple times per day, there's no need to spend a fortune.
Before we go, here are some FAQs!
Frequently Asked Questions
1. How long should I work out on an elliptical?
Typically, working out for 30 minutes on an elliptical is more than enough for most. However, it does come down to person-to-person goals and capabilities. You do you!
2. How can I keep myself from getting burned out on elliptical workouts?
This is a common one for so many people, including myself. The best advice to a workout enthusiast is to take breaks often. Just enough to avoid too much strain or exhaustion. Nowadays, there's also a cool new application that allows you to connect with other people to work out together! Give Zwift a try, an interactive workout training app. You'll have fun when you're comfortable at home, and still connected to the community!
3. Is buying an elliptical worth it?
Yes it is! An elliptical trainer is an exercise machine that allows you to simulate a running/walking motion, or even climbing of steps, without the impact on your knee joints and back that the real outdoor activity might cause.
Now, think about this. Even people with injuries can make the most of a good minimal-impact workout by carefully choosing a low-impact machine!
4. Ellipticals vs Treadmills: Which is better?
Ellipticals are great because their comfortably wide and unique stepping motions stimulate all your important major muscle groups, the same way running on the treadmill will. That's an entire cardio routine if you up the levels, right?
However, every step on a treadmill will put the pressure of your body weight on your knees. If they're already hurt, they will suffer more from this high-impact workout in the long run.
Since the elliptical works with stepping motions in an elliptical path, it puts zero or low impact on the knees. Paired with the handlebar motion, you have yourself a full-body workout with half the effort and none of the pain!
5. Can you lose weight using an elliptical?
Yes, elliptical machines are great for elevating your heart rate and losing weight! By maintaining a balanced diet and exercising regularly, you'll burn calories efficiently and create the calorie deficit necessary to eventually shed off weight. You'll feel the change in no time, so better start early!
6. Is high-intensity interval training (HIIT) good for your health?
HIIT can certainly improve cardiovascular health and increase calories burned. It's definitely popular among the athletic types. However, it might not be suitable for everyone, as the short bursts of high-intensity exercise can be very hard on the body. So, just go at your own pace and you'll get there!
7. When should you use the elliptical?
An elliptical is the best workout equipment for people who need a break from high-impact exercises. Since it doesn't require energy to lift your feet off the ground, it isn't as weight-bearing or exhausting as running.
Go for ellipticals when you want to achieve the results of running, but at a steadier, calmer pace.