Hello to all workout enthusiasts like me out there! My name is Andrew, and I know that many people have decided to make this year the year that they finally get in shape.
For most people, that means purchasing a new piece of exercise equipment because let's face it, gyms are expensive (and intrusive), and the weather doesn't always cooperate so you can exercise outdoors.
Unfortunately, for those of us with bad knees, you immediately start to weed out machines that you know are going to cause you pain—treadmills, stair climbers, weights, maybe even stationary bikes.
So what does that leave you with?!
I've had problems with my knees for years, so today, I want to tell you about the best exercise equipment that won't hurt your knees.
Grab some water (or coffee or tea), and let's get down to business.
OUR TOP CARDIO PICKS
FreeStep Recumbent
Cross Trainer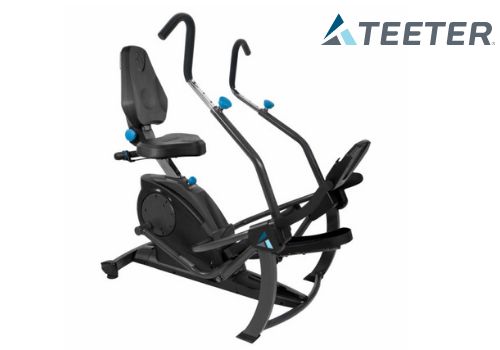 Check Price
Hydrow Interactive Rower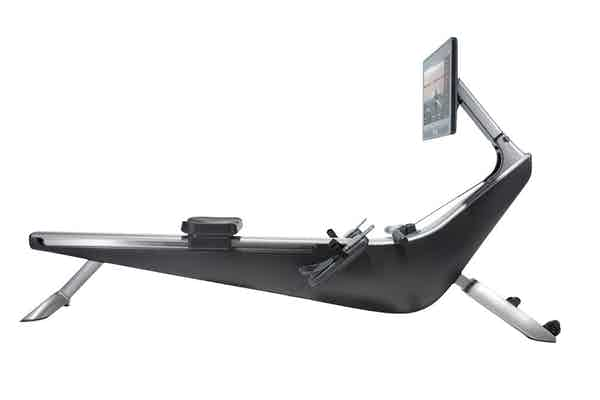 Check Price
NordicTrack FS14i Elliptical
Check Price
Proform HIIT H14 Elliptical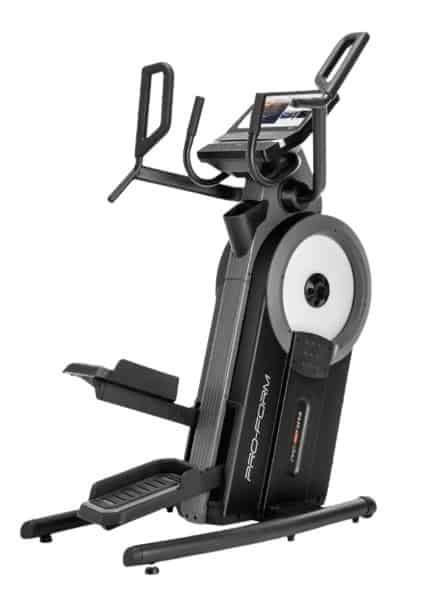 Check Price
Ergatta
Check Price
Consider Your Knee Pain First
First, let me talk about knee pain and why you should consider the type of knee pain you have before choosing an exercise machine.
One way to define your knee pain is by asking yourself these questions—
Does your knee pain stem from arthritis, a long-term injury?
If so, and unless you are considering a knee replacement, you will want to avoid any weight-bearing exercise. This type of knee pain isn't going to magically disappear, but you can reduce your pain levels through exercise (more on this later).
Do your knees hurt more when riding a bicycle (or using some ellipticals that mimic that "round" movement of a bicycle)?
If you aren't sure, try riding a stationary bike (or even a regular bike). Note your pain levels after 30 minutes.
The next day, try walking for 30 minutes on a treadmill at a moderate pace. Note your pain level.
If the bicycle hurts you more than walking, it could be the difference in the type of movement you are doing. Look for a piece of exercise equipment that mimics walking (up and down) as opposed to cycling (round and round).
Do you have other types of joint pain?
Many people with bad knees also experience back pain or sciatica. If your hand just shot up, and you wanted to shout "ME!" I feel your pain (literally). You should consider recumbent bikes or recumbent cross trainers ( you might also like to read my other article best recumbent cross trainers for elderly ).
Once you have a better idea about your pain and what your body needs, choosing a piece of equipment for bad knees will be just a bit easier!
What Machine Will Strengthen Your Knees?
Almost any exercise machine will help to "strengthen" your knees if used regularly.
Joints, in and of themselves, don't actually have a way to be "strengthened." The way you improve the "strength" of a joint is to build and strengthen the muscles supporting the joint.
This means that when you strengthen the quads and hamstrings (the muscles on the front and back of the thigh), you will have stronger knee joints because the joint itself doesn't need to take on so much of the weight.
When your muscles are stronger, you will find that joint pain is greatly reduced. You may not be able to get rid of all joint pain, but you will find that you can do everyday tasks with far less pain when the muscles supporting the joint are strong.
The Best Exercise Equipment For Bad Knees
Now that we've gotten the basics out of the way, let's take a look at which machines will give you the strongest leg muscles (and upper body muscles) with the least amount of pain.
The Teeter FreeStep LT3
If you're like me, you've got some messed up knees, and your back isn't so good either. After my knee injury, I saw a physical therapist who had me use a machine that really changed my life.
The Teeter Freestep LT3 is a recumbent cross-trainer that gives you a terrific workout but doesn't hurt your back or knees.
You've probably used a similar machine in your physical therapist's office. Why do PT's recommend those machines? The answer is simple—because they work!
Some believe that recumbent anything means zero cardio exercise because you're in a relaxed position, but that isn't true! I've used this machine for many months, and it is one of the best exercise machines for anyone with back and/or knee pain!
This is a true cross-trainer, which makes it seem like you are getting three machines in one. You can use just the leg portion to work on building strength, use just the arm portion for a stronger upper body, or use both for a real cardio workout.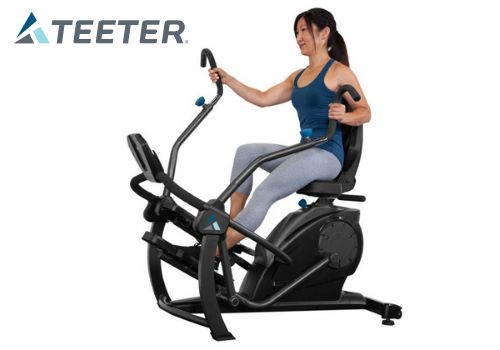 This is more than just low-impact, it is zero-impact, so painful joints while exercising will be a thing of the past.
I really love the handlebars on this recumbent bike (read my full Teeter Recumbent Bike Review ). They are multi-positional, which means that you can pull on them to improve your biceps or push on them to work the triceps and your back muscles.
I can't think of another piece of gym equipment that can do what the Teeter FreeStep can do!
To top it all off, Teeter offers a free (read that again, FREE) workout app called the Teeter Move. You can find all types of workouts to help prevent boredom and keep you motivated!
The Teeter FreeStep LT3 is very compact, and you can roll it easily to any room of the house for storage when not in use.
There is nothing else like the total body workout you'll get from the Teeter FreeStep.
The Hydrow or Hydrow Wave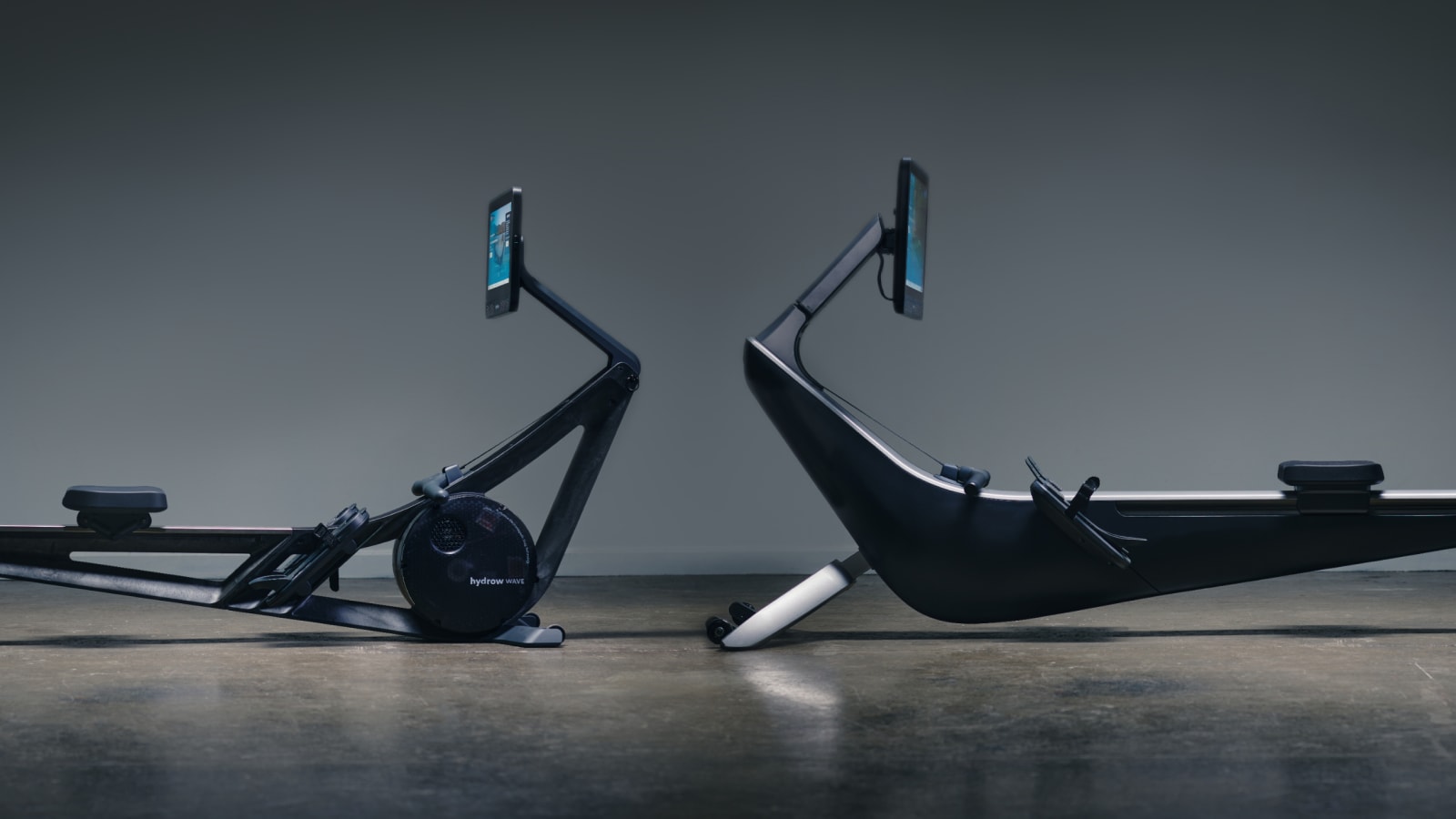 One of my favorite pieces of exercise equipment for bad knees has to be rowing machines.
While you might think that rowing means bending your knees (yes, it does!), that doesn't mean it has to be painful.
Rowing is a non-weight-bearing exercise. It's really no different from bending your knees while lying in bed (OK, you'll be working hard, but you get the idea). Without any weight, bending your knees should be a safe and effective exercise.
There are lots of rowing machines on the market, but I like the Hydrow.
Hydrow uses silent magnetic resistance, so no one else will be annoyed by the sound of your exercise machine. It feels just like rowing in a real boat on the water, the only thing you're missing is a lifejacket!
It's the programming where Hydrow really shines. With a 22-inch HD touchscreen, you'll rave to your friends about the gorgeous monitor.
If you tend to get bored, you'll love this exercise routine because there is nothing routine about it! Race against friends, be taught how to row by ex-Olympians, take private lessons from national champions, or just row and see the beautiful waterways of Thailand, Spain, the Philippines, and more.
You burn more calories rowing than any other exercise except for jumping rope, and we all know how jumping would go with bad knees!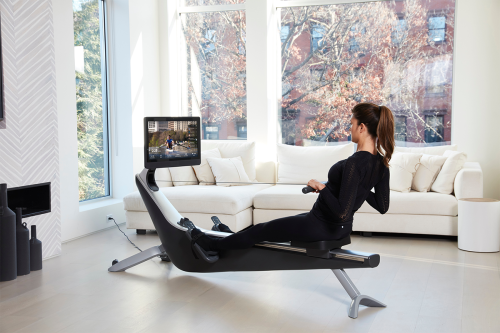 Try the Hydrow free for 30 days. If you don't love it, send it back for a full refund! I've never known anyone who wanted to send their Hydrow back, but you could.
If you want something a bit more compact, both in size and on your wallet, or if you want some color in your life, try the Hydrow Wave.
The Hydrow Wave has everything the original Hydrow does but with a smaller footprint. You can even get some amazing colors, something no one else offers.
I would like a beautiful Sunset Orange one if I ever find room for another rowing machine!
The NordicTrack FS14i Elliptical Machine
Chances are that you are already familiar with the NordicTrack name, but did you know that they make ellipticals?
Many people with bad knees find that elliptical machines offer fantastic cardio training without hurting their knee joints (read my article on elliptical machines with 300 lb weight capacity ).
This elliptical does not only offer low-impact workouts but also a 14-inch HD smart touchscreen for your viewing pleasure.
All NordicTrack products use the iFit app, which literally has thousands of workouts. You'll find walking workouts, workouts for your treadmill, bicycles, swimming, yoga, Pilates, you name it!
For cross-training, you really can't beat iFit. One app covers dozens of types of exercise, so you don't have to pay for a gym membership! With the touchscreen monitor, you can track your ever-improving fitness level and reach new goals!
The NordicTrack Freestride Trainer can change from a walking gait to an elliptical up-and-down gait, to a stair-climbing gait with the touch of your finger. You can even adjust the stride length so you get the best low-impact cardio workout possible.
If you love using elliptical machines, you'll really get into everything the NordicTrack Freestride Trainer has to offer!
The Proform HIIT H14 Elliptical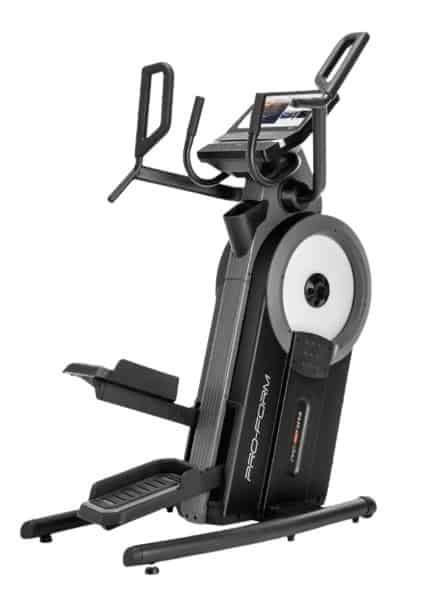 I know, I know, you probably love that NordicTrack elliptical except that it's out of your price range.
I've got a little secret for you—try the Proform H14 elliptical machine.
NordicTrack makes Proform products, so you know you're getting all the quality you want but at a more pocketbook-friendly price.
Check out the H14 features that are nearly identical to the NordicTrack Freestride Trainer:
It uses the iFit app, so you'll enjoy thousands of workout programs.
The H14 also has a 14-inch smart HD touchscreen tablet to stream your workouts.
The stride isn't adjustable, but it is a comfortable 10-inches.
Silent magnetic resistance training means no noise as you work out.
The multi-position handlebars means that you can push or pull, using different muscle groups when you do so.
An elliptical machine is a popular choice for anyone with bad knees who wants one of the best pieces of exercise equipment.
Try the Proform H14 Elliptical. You won't be disappointed!
The Ergatta Water Rower
Remember when I told you that I would love to own a Hydrow Wave if I had room? That's because I also own an Ergatta Water Rower, so space is quite limited.
If you love the soothing sound of water or like the idea of playing game-based workouts with NO instructors, then you'll love the Ergatta.
Made from drop-dead gorgeous cherry wood, Ergatta has you feeling like you are in your own little rowboat! The sound of the water in the tank is super soothing and no louder than what you might hear when filling a sink or a bathtub.
The game-based programming is awesome! Scientifically designed to give you the maximum benefits for the least amount of time, you can rack up points while catching meteors, collect all the chips in Vortex, or race against your friends (or yourself!)
I've found that these games are super addictive! You will find yourself exercising longer so you can beat your opponent! If you're the competitive type, you're going to love Ergatta.
I think Ergatta's only drawback for those with bad knees is that it literally sits on the floor.
The seat is only 10 inches off the floor, so for me, sitting down isn't a problem—it's the getting up that needs a bit of planning! I keep a chair next to me for support, and you might want to do the same!
Except for that, Ergatta is one of the best rowing machines I've ever used!
What Is the Worst Machine for Bad Knees—Ouch!
While a lot of cardio machines are hard on the knees, two common pieces of exercise equipment you'll want to avoid if you have arthritis or just plain old bad knees are the treadmill and the stair climber.
Now, not everyone is the same, so if you find that you can use a treadmill without pain, then go for it! I've found that stationary bikes just kill my knees, as do treadmills, but stair climbers aren't too bad for short periods of time.
I recommend that you try some of the exercise equipment I've recommended above. Join a gym for a month if you must or try some of your friend's equipment before you buy just to be certain that you aren't going to regret your purchase later on.
Finally
At the end of the day, only you (and your doctor or physical therapist), can decide which machine would be best for you.
If rowing seems like a bore, you might want to consider an elliptical machine. If you have back pain, consider the Teeter FreeStep with its recumbent seat.
If you choose one of the machines from this list, I'm sure that you are going to say that you found the best piece of exercise equipment despite your bad knees!
Always find a reason to smile, enjoy life, and stay healthy!