One fine summer day, I was riding my bicycle, enjoying the endorphin rush, when I hit a bump or something in the road that I didn't see. I went head over handlebars, and while I didn't hurt my noggin because I was wearing my safety helmet, I did a real number on my back after landing on a brick wall.
Why am I boring you with my exercise war stories? Because I want to tell you about my experiences trying to exercise while my back took its sweet time healing. I thought it was never going to feel normal again, but I was wrong. I'm just an impatient dude, what can I say?
Having a sprained back meant that I couldn't return to my old ways of exercise and I was NOT about to just sit around for 8 weeks.
I tried using an exercise bike that I had, but the pain was more than I could bear. If you've ever noticed them, exercise bikes tend to make you hunch over the handlebars, especially if you are really going at it.
I asked my chiropractor what I could do as far as exercise and he suggested a recumbent bike or a recumbent elliptical.
I started checking out a variety of machines and that is how I found out about the Teeter FreeStep.
This isn't another review about recumbent bikes or recumbent cross trainers that no one actually used. I've used the Teeter FreeStep, and I'm going to tell you about my personal experience with this type of recumbent exercise.
Are you ready for some real-life truth about how the FreeStep recumbent cross trainer helped me and what it can do for you?
Then keep reading because I'm going to blow you away with a few of my secrets!
The Teeter FreeStep Recumbent Cross Trainer
First off, you might be interested to know what the difference is between a recumbent bike, a recumbent elliptical, and a recumbent cross-trainer.
A recumbent bike only allows you to work the lower half of your body. You sit on a seat that has a backrest, like a chair, and you can pedal like mad.
A recumbent elliptical is like a recumbent bike, but it has handlebars that you push and/or pull back and forth at the same time that you are pedaling.
A recumbent cross-trainer is an elliptical, but it allows you to use only the pedals or you can use only the handlebars or you can use both together.
Now that you know a bit more about the difference between these three types of recumbent machines, I have to tell you that, unless your injury involves more than just your back, why wouldn't you go for the recumbent cross-trainer?
To maximize my cardio and burn calories, I want a machine that works everything, a full-body workout, all in one. Exercise bikes, even recumbent ones, only give you a lower body workout.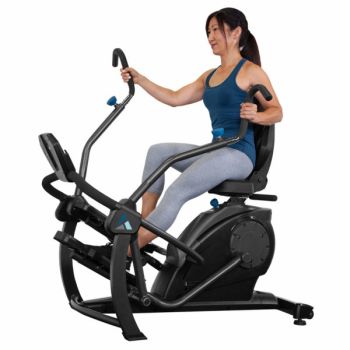 What I love about the Teeter FreeStep is that I can do just my lower body if I want, or just the upper body or both upper and lower body, the choice is mine.
nThat kind of makes the Teeter recumbent cross trainer like having 3 cardio machines in your home gym in one device ( you might also like to check out my other article on the best elliptical machines for you home gym )! That's pretty cool in my book!
OK, now that you have a complete rundown on recumbent machines, let's talk about the features of the Teeter FreeStep. There are two models to choose from, and I'm going to tell you about both of them in depth.
Is the Teeter FreeStep a Good Machine?
No matter what your definition of "good" is, the Teeter FreeStep is that and more.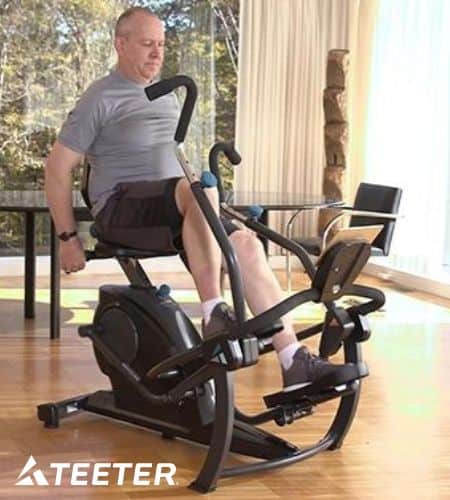 The Teeter FreeStep was made and designed by Roger Teeter. He wanted a machine that was similar to the ones used in physical therapy for home use.
This is a cardio and strength training machine made specifically for people suffering from injuries or pain. With this equipment, you can continue to enjoy a challenging workout even in your condition.
The Teeter FreeStep is an investment in your health that you won't regret.
The Teeter FreeStep LT3 Recumbent Cross Trainer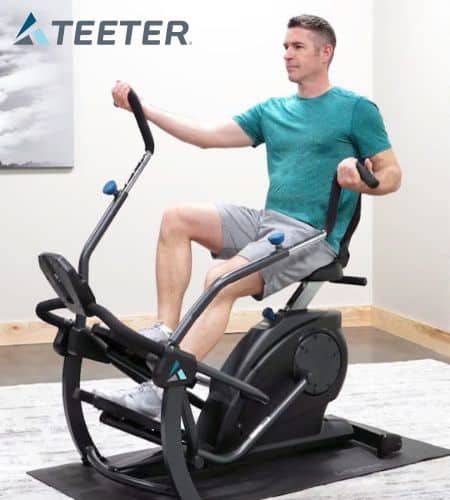 While a lot of people go with the traditional workout machines, when you need something recumbent or you need an elliptical, there is no better option than the Teeter FreeStep.
The LT3 is the slightly more expensive model that provides a zero-impact workout and back support for those with back issues. It's the perfect exercise equipment for seniors who may have difficulty walking or those with injuries that prevent them from doing regular workouts or using other cardio machines ( you might also like to read best cardio machines for bad knees ).
While this machine isn't a step-through model, the seat is high enough to make getting on or off easy for the user. Although the Teeter recumbent bike isn't a step-through machine, it has the smoothest motion I've ever encountered when using a cardio machine.
That is most likely due to Teeter's ultra-glide bearings, friction-free linkage system, and padded foot pedals. You literally feel as though you're walking on a cloud or on-air. Yes, that smooth and easy!
The Teeter Recumbent cross trainer has a lot of other features that you will love including:
Sure-grip handles with premium-grade rubber coating for a firm, yet soft grip
The handlebars have push/ pull mechanisms, depending on the muscle groups you want to work, and they are also adjustable. This dual power motion means that you can work your back muscles and shoulder muscles, but it distributes the exertion you use over your entire body so you can work out longer without feeling fatigued.
The comfortable seat is really awesome. It is completely adjustable, and the backrest can even recline for the ultimate comfort. This is exactly what anyone with back or hip injuries need!
There is a built-in water bottle holder that is easy to reach
This fitness machine uses magnetic resistance, which means it is virtually noise-free. Use it while your SO is sleeping, your grandkids are napping, or in an apartment.
The patented Stride-Technology means that this uses a linear motion, which is nearly identical to the motion you use when walking. If the circular motion of exercise bikes bothers your knees, then you should find the natural movement of the FreeStep recumbent cross trainer more comfortable
The stride length is 13 inches
This recumbent cross trainer has a steel frame, so you know it will last for decades
The maximum weight capacity is 300 lbs
There is a media shelf for your tablet or smartphone
The LCD display tracks your time, distance, speed, and calorie burn
Transport wheels make moving this recumbent machine a bit easier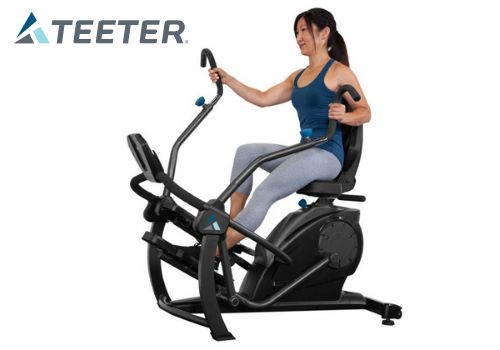 Did I mention that the Teeter FreeStep LT3 is a zero-impact machine?
Whether you have arthritic knees, joint pain, back pain, hip problems, arthritis, or other health issues, you can use the Teeter FreeStep Recumbent Cross Trainer with zero pain!
Teeter FreeStep Resistance Levels
Both the LT3 and LT1 use a magnetic resistance system that is manually controlled. You can increase or decrease the resistance level by turning a knob.
There are 8 resistance levels to choose from so you're sure to get a good workout.
Is the Teeter FreeStep a Good Full-Body Workout?
It sure is!
This recumbent exercise elliptical provides a very effective cardiovascular and total-body workout. Recumbent bikes, exercise bikes, and stationary bikes can't claim that!
Regular use of the Teeter FreeStep will significantly improve your heart and lung capacity, as well as increase your calories burned.
The Teeter FreeStep LT1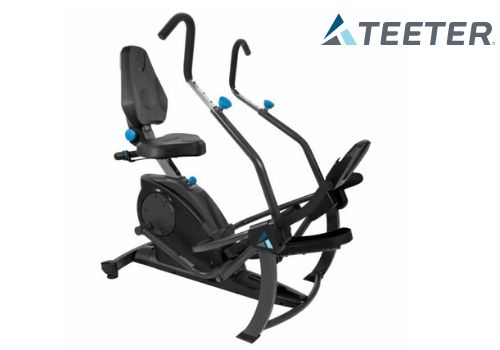 The LT1 version of the Teeter FreeStep is the base model, but that doesn't mean it lacks very much.
The following items that you will find in the LT3 are excluded or absent in the LT1:
The premium, padded SoftStep foot pedals
The wide and premium-padded ComfortSelect seat
The premium-grade coating on the handlebars
Ultra-glide bearings for that fluid and frictionless motion
2-year extended warranty
These are the only real differences, and if these items matter to you, then you should go with the upgraded LT3.
There is really only a very small price difference between the two, so why not go all out and buy the FreeStep LT3? If you need a recumbent elliptical, the Teeter FreeStep recumbent cross-trainer LT3 has everything you need to help you lose weight and improve your fitness level.
Specs and Dimensions of the Teeter FreeStep
The following chart spells out some of the specifications and dimensions of this recumbent machine.
| | | |
| --- | --- | --- |
| Teeter FreeStep | LT1 | LT3 |
| Weight Limit | 300 pounds (136 kg) | 300 pounds (136 kg) |
| Height Capacity | 4 ft 11 in. – 6 ft 6 in. (150 cm – 198 cm) | 4 ft 11 in. – 6 ft 6 in. (150 cm – 198 cm) |
| Assembled Dimensions | 54.0 x 38.0 x 52.5 in. (137.2 x 96.5 x 133.4 cm) (L x W x H) | 554.0 x 38.0 x 52.5 in. (137.2 x 96.5 x 133.4 cm) (L x W x H) |
| Teeter Box Dimensions | 43.9 x 29.9 x 25.4 in. (111.5 x 76.0 x 64.5 cm) (L x W x H) | 43.9 x 29.9 x 25.4 in. (111.5 x 76.0 x 64.5 cm) (L x W x H) |
| Teeter Weight | 106.9 lb (48.5 kg) | 110.2 lb (50.0 kg) |
Teeter FreeStep
LT1
LT3
Weight Limit
300 pounds (136 kg)
300 pounds (136 kg)
Height Capacity
4 ft 11 in. – 6 ft 6 in. (150 cm – 198 cm)
4 ft 11 in. – 6 ft 6 in. (150 cm – 198 cm)
Assembled Dimensions
54.0 x 38.0 x 52.5 in. (137.2 x 96.5 x 133.4 cm) (L x W x H)
554.0 x 38.0 x 52.5 in. (137.2 x 96.5 x 133.4 cm) (L x W x H)
Teeter Box Dimensions
43.9 x 29.9 x 25.4 in. (111.5 x 76.0 x 64.5 cm) (L x W x H)
43.9 x 29.9 x 25.4 in. (111.5 x 76.0 x 64.5 cm) (L x W x H)
Teeter Weight
106.9 lb (48.5 kg)
110.2 lb (50.0 kg)
How Many Calories Does the Teeter Burn Compared to Recumbent Bikes?I assembled the Teeter FreeStep myself in about an hour, but if you feel uncomfortable doing this, you can pay to have it assembled professionally.
Teeter claims that this machine can burn 17.4% more calories than you can with a recumbent bike or stationary bike.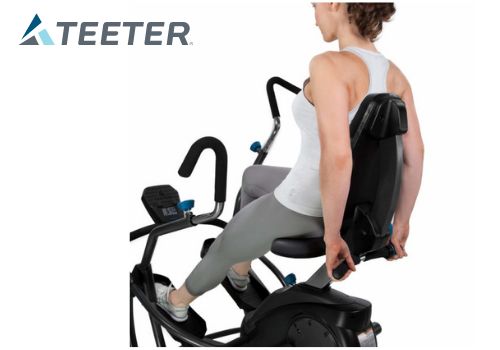 How much YOU will actually burn will depend on your weight, age, sex, and how hard you do your workouts. To give you an idea, an average person will burn about 450 calories per hour on an elliptical and only 350 using a recumbent bike.
Now while this can't touch rowing at 900 calories an hour, your back may not be able to deal with a rowing machine at this point in time.
Can You Lose Weight with Teeter?
You sure can!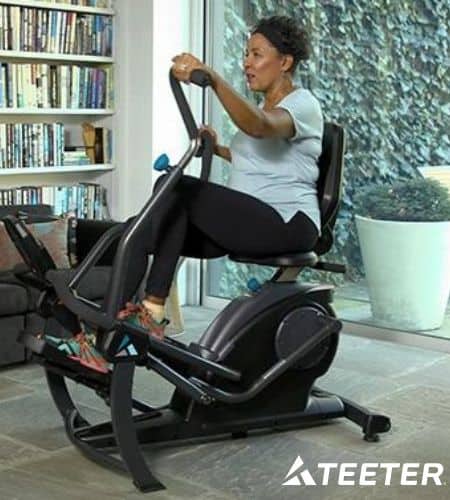 Keep in mind that losing weight involves a bit more than just the number of calories burned. You need to cut back on some calories you consume and then burn some through exercise.
Fitness machines, such as the Teeter FreeStep, are one of the best ways to get a total-body workout and all the health benefits that come with exercise, such as lower blood pressure, lower blood sugar levels, reduced risk of dementia, and, of course, weight loss.
Commit yourself to using the Teeter FreeStep Recumbent Cross Trainer at least 5 days per week and eating a healthy, plant-based diet, and you're sure to see those extra pounds fall off!
At the End of the Day
I'm not one to sit on my butt most of the day, so after I injured my back, I was at a loss as to what type of exercise I could safely do.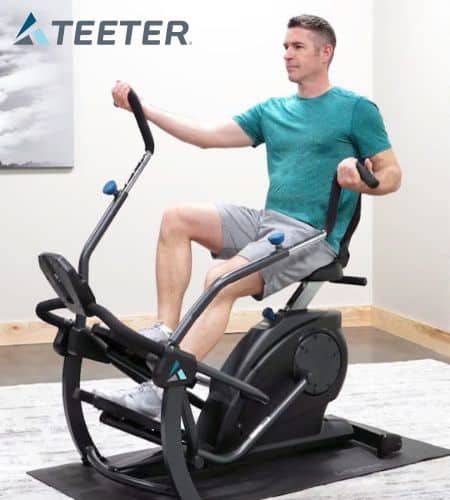 The Teeter FreeStep Recumbent Cross Trainer made my exercise routine easier than I thought possible. I was surprised at what a great low-impact workout could feel like!
Personally, I think this whisper-quiet machine is a great value for the price. You could pay twice as much for a different cardio machine or recumbent bike, but why would you? The Teeter FreeStep has everything you could ever want or need in a low-impact piece of home gym equipment.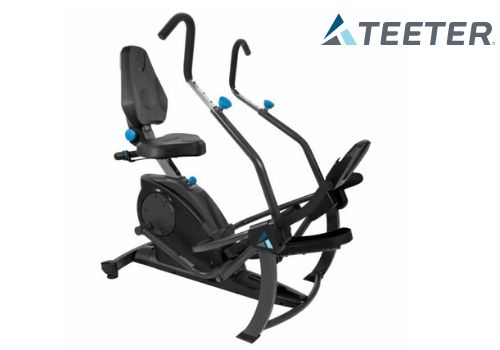 Whatever your reason for researching and reading this far, whether you have injuries, health problems, or mobility issues that are preventing you from getting exercise, the Teeter FreeSTep Recumbent elliptical is all you need.
No more excuses! Buy the Teeter FreeStep and you'll understand what I'm talking about!
A happy life is made up of many small details, including exercise. Get the Teeter FreeStep today and enjoy how your body feels.