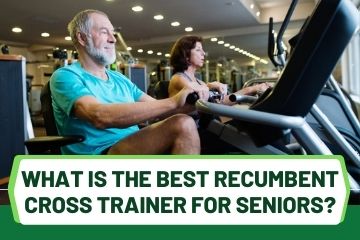 If you've ever been told that your body starts giving up on you as you grow older, you should really stop believing everything you're told.
The body is only as healthy as the mind. In this case, if you've got the mind to maintain your physical health as you grow older, you won't have to worry about weak muscles and aching joints.
In this article, I'm going to tell you about the best recumbent cross trainers that you can use as a part of your fitness regime.
Especially if you're a senior citizen in search of a suitable recumbent cross trainer to help you achieve a satisfactory workout while going easy on the body.
Short on time? Check out our Top Picks in a Glance Below:
I have simplified things for you. If you don't want to read the whole article, here are our top pick recumbent home cross trainers for seniors:
Keep reading below where I go into full detail on each machine.
Why the Recumbent?
The recumbent cross trainers position the body in a laid-back, comfortable position while also stimulating a full-body workout.
Why is this good for seniors, you say?
Well, it's a biological fact that aging causes loss of muscle tone and bones to become brittle, more so due to inactivity.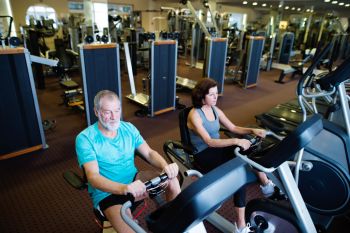 One way to prolong the looming thundercloud that is 'old age' is to work out! It's that simple!
Studies have shown that regular exercise helps aging individuals to retain healthier muscles and joints, and also decreases many risk factors that come with old age.
Is the Recumbent Cross trainer a good workout?
Unlike just a recumbent bike, or just an elliptical machine, the recumbent cross trainer is a combination of a recumbent bike- with its seat and backrest and pedaling motion, and the elliptical-because instead of the circular bicycle pedaling, the pedals imitate a more linear motion which is better for less strain on the knees and back.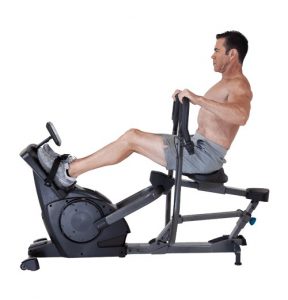 When you're getting a relaxed, low-impact exercise paired with a fat-burning cardio workout, then there's no doubt about whether the recumbent elliptical trainer is a good option or not.
How do you know what a good recumbent cross trainer is like?
There are a few things one should be aware of when looking for a good recumbent cross trainer; to set one apart from the other and be able to look for differences and details.
Seat
The seats on recumbent trainers are always wider and they always have lumbar support. Some seats will have an adjustable recliner, which is a great feature to have because it allows you to change your position according to your preference.
A high-end seat feature found on some recumbent trainers is the ability to swivel. On these machines, you can release a lever and the seat rotates 90 deg to the side.
Pedal motion
The motion of the foot pedals is also important. The motion can be linear or circular, which more closely mimics the motion of an elliptical machine ( also my list of best ellipticals for heavy person ) .
If you have arthritis or are a senior you may want to look for a machine with a linear pedaling motion to make sure there's less impact force… (more info further on!)
What's the best recumbent cross trainer?
When I think of a recumbent cross trainer, I think of a machine that'll help me run through an intense cardio exercise, burn calories and build up muscle tone all at the same time while making the experience more relaxed and easy to achieve.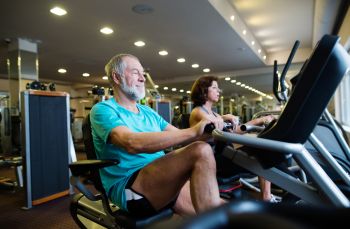 After all, the purpose of a cross trainer is its recumbent elliptical properties, making it super popular among the old, the recovering, and the healthy, alike.
For me, the best recumbent trainers will let me achieve all of the above, in preferably less time. A complete, gym routine in the comfort of my home.
As a pioneer of sorts when it comes to looking for the best exercise machines I can get my hands on, I've come across a few options that come close to the best. My favorite of the bunch, though, is what I call 'the whole package.'
Top 7 Recumbent cross-trainers for you
Let's jump right into reviewing the top machines to achieve a workout regime best suited to your needs!
Top Pick: The Teeter Power 10
As a pioneer of sorts when it comes to looking for the best exercise machines I can get my hands on, I've come across a few options that come close to the best. My favorite of the bunch, though, is what I call 'the whole package.'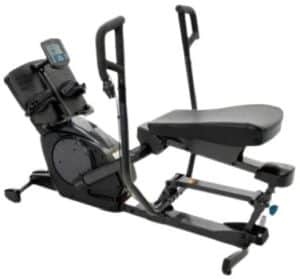 The Teeter Power 10 is probably my favorite machine to use when it comes to recumbent trainers. It's also my favorite overall.
What sets the Power 10 apart is how one machine is able to target every major muscle group in a single workout.
Not your average rower
The traditional rower targets and stimulates 85% of your body's muscle mass in just one direction. Now imagine what a Power 10 can do.
You can seamlessly switch directions on a Power 10 from a push to a pull and vice versa without having to change your position.
The thing about this two-directional feature is that where it's targetting your biceps, delts, forearms, quads, and calves in the standard rowing motion, a switch in direction will put focus on your chest, triceps, hamstrings, glutes, and abs for an unrivaled total body workout.
This way, all your major muscle groups are stimulated at different instances, which helps with avoiding muscle or body fatigue.
Better than a bike
Where an upright bike focuses on your lower body, the Power 10 focuses on 'divide and conquer'.
Neglecting certain muscle groups while fixating on others too much can cause muscle strain. With its recumbent design and magnetic resistance, the Power 10 gives way to a smooth all-around workout without the stress on the joints.
Better than a treadmill
Sure, a treadmill serves the purpose of an extreme cardio workout. But, it's at the expense of your knee joints and trust me I know! Ouch!
Running on the treadmill is a high-impact routine. It's way better to replace it with something that serves the same, if not a higher, purpose while giving the lowest impact exercise.
I've never had to use my core muscles for any other exercise machine than for the Power 10. It is definitely a full-body workout in all senses of the term.
You can burn fat, build stamina, tone up your muscles and feel the sweet ache in every muscle, some you didn't even know you had!
The Power 10 features:
Muscle targetted multi-grip handlebars for easy mobility
Quick-release foot straps for a comfortable slide
Bluetooth enabled heart monitor
Digital console for performance tracking
Easy reach resistance dial, so you can adjust your workout routine depending on the level you want
A large ergonomic seat that moves with you
Teeter FreeStep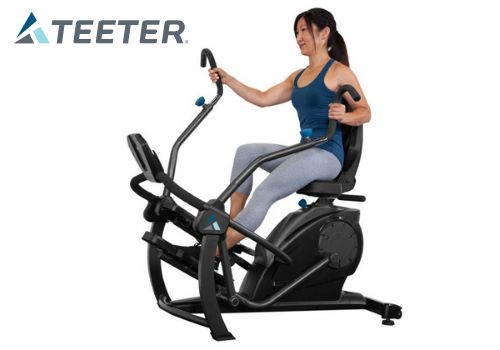 The Teeter FreeStep Recumbent is an elliptical cross trainer specifically designed to provide a low-impact workout.
This means you can work on your upper and lower body flexibility and develop better muscle coordination in a smooth pedal motion.
The seated-elliptical design has a linear step motion that relieves strain on the knees and avoids joint pain.
This particular recumbent trainer is a personal favorite of mine. The stimulus on the full-body muscle helps burn calories and develop stamina in a more gentle manner than most other cardio routines.
Besides that, it's also one of the most commonly used by physical therapists.
The specifics
It comes with a back and forth handlebar movement paired with a unique striding motion that keeps all your limbs in fluid, coordinated motion and tightens your core muscles to help with belly fat as well.
A comfortable backrest position acts as back support while you put core energy into maintaining a proper hand and foot grip.
The seat doesn't have a swivel function, but that's understandable. Seeing as the FreeStep is one of the most reasonable machines price-wise, it wouldn't come with a high-end feature like that.
That being said, a lot of users actually prefer their seats to be fixed. So, it's all up to your preference.
Different models
The FreeStep comes in two models- the FreeStep LT3 and the LT1, but there aren't any major differences you need to worry about. LT1 is a slightly budget-friendly version of its big brother LT3.
The Teeter FreeStep has a low friction magnetic resistance that makes your strides extra smooth and effective. It also makes it quiet as a whisper.
It's almost like bringing your own physiotherapy technology home.
The strain-free movements are known to reduce muscle fatigue drastically. At the same time, it's targeting certain muscle groups to bring about the desired effect- strengthening.
Like any good piece of exercise machinery, it has an easy-to-read display screen to keep track of progress.
Compact size
The biggest issue with exercise machines is the large floor space they tend to take up.
Luckily, the Teeter FreeStep is compact enough to easily be maneuvered around and set up in your home gym without crowding up the room.
All in all, it's a great buy to set up in a standard-sized room without taking up unnecessary space and create a personalized at-home gym. It's definitely worth it, trust me.
XTERRA Fitness RSX1500 Seated Stepper
Similar to the FreeStep, the XTERRA Fitness RSX1500 Seated Stepper is also a recumbent elliptical cross trainer designed to help users perform intense cardio as a zero-impact workout.
This machine is also a seated elliptical, with the backrest being slightly less reclined and more upright than the FreeStep.
What sets the Xterra seated stepper apart?
The RSX1500 seated stepper offers the same pedal technology as the FreeStep, with ratchet-style straps that hold your foot in place, making it even easier to slide into the pedaling motion.
The handles are padded, the design is walk-through and the seats are comfortably adjustable.
The patented stride technology also means that the glide system for the seated stepper has magnetic resistance, making it smooth and frictionless.
What I've experienced with this equipment is how it's suitable for people of all ages and levels of agility.
Your comfort is a priority!
The XTERRA seated stepper is amazingly comfort-oriented; I'm talking additional handlebars attached to the seats for a change of position (that can pivot for easy mounting), an adjustable seat, and handlebars with numbered settings on both, and an easy-to-read LCD display for track progress.
Seeing how this workout routine is age-friendly, it's especially suited to individuals with lower back and knee problems.
The cushioned seats and upright backrests are targetted to create a low-impact routine that avoids weight centered on the knee joints and the back.
So, if you're a senior looking for a full-body cardio exercise and joint pain relief, or just someone who wants to keep their joints from aching and developing arthritis when they're older, then this is the trainer for you.
How do you use a recumbent stepper?
The recumbent stepper is used the same way a recumbent bike is. You have the lumbar support and the pedals, except your legs imitate a linear stepping motion.
The thing with linear steps is that instead of the traditional, circular rotation, your legs, specifically the knees, are moving in two dimensions, forward and backward. In a circular motion, the legs work to go forward, then down, then back, and up.
It's physically much easier for the leg to perform linear steps as it requires less force, but brings the same, desired result of fluid leg motion and muscle stimulation. It's low impact and much smoother than you would expect.
Does the recumbent stepper help lose belly fat?
Yes, you can lose belly fat on a recumbent stepper!
A lot of core muscles are involved in maintaining a coordinated stepping motion. The laid-back position makes it extra tight on your abdominal muscles to put work on moving your legs. This means you're definitely on your way to achieving that flat tummy you want.
The thing about such recumbent exercises is that it's therapeutic for those looking for relief from muscle aches and weak joints and also a good cardio workout for those gym junkies looking to burn fat and build stamina.
So you see, the doctor ordered it. It's definitely a worthy addition to your home setup.
ProForm Hybrid Trainer
The Proform Hybrid Trainer is a unique recumbent exercise bike that has the combined benefit of a recumbent trainer as well as a standing elliptical.
What the 'hybrid' means
It's all in the name!
What makes the ProForm Hybrid trainer special is its dual-action. While acting as a recumbent bike, with an adjustable seat and oversized pedals for fluid leg movement, you can also perform standing ellipticals for a more intense experience.
Specifications
The ProForm comes with a high-definition LCD window display and Stream interactive iFit workouts on your own smart device to stay engaged and motivated as you train.
Silent Magnetic Resistance allows for a smooth and soundless routine that is perfect fr an at-home setup. You can work out and watch TV at the same time!
Switch it up!
With the hybrid trainer, you have the freedom to interchange between the elliptical and recumbent bikes whenever you want, with one machine.
Besides, change is always good. Going from seated to standing ellipticals will keep all the right muscles stimulated at all times. Plus, you should keep your body guessing; train it to be prepared for anything!
Age is just a number
I can't stress this enough; your age does not restrict you from using these exercise machines. The purpose of recumbent cross trainers and such types of elliptical machines is to make them user-friendly for young and old alike.
If you're young and energetic, you can take advantage of the standing elliptical to engage in an intense cardio workout that stimulates walking and climbing motion.
If you're an elderly person looking for a regular exercise routine that's both stimulating and stress-free, the low-impact exercise provided by the seated recumbent is what you should opt for.
For the entire family
Your home set-up will definitely be popular with the addition of the hybrid trainer. This way, both the young and old members of the family can achieve their workout goals from the same machine.
This two-in-one action just saved you a lot of money!
HCI Fitness PhysioStep LXT-700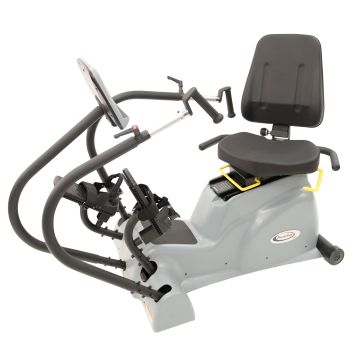 This is a type of recumbent elliptical trainer that is especially suited to people of age.
The HCI Fitness PhysioStep LXT-700 is another seated elliptical trainer designed to provide a perfect, low impact, full-body workout for people that are looking for more relaxed cardio as compared to most other products.
The Design serves a special purpose
This model is ergonomically designed specifically to serve a wide range of users with different levels of intensity.
The leg motion imitates natural walking, as an elliptical should, and the comfortable seat makes it easy to use for seniors.
A linear-step recumbent cross trainer
The LXT-700 model comes in the linear-step motion, specifically engineered in a patented model in the US. This means that the pedal motion doesn't rotate like that of a normal recumbent bike. Rather, takes up a back-and-forth linear motion that makes it a low-impact cross-trainer.
This machine is popularly used and recommended by physical therapists all around the world.
Now, it comes in the circular step model as well. If you're someone recovering from knee injuries and are perfectly young and healthy, there's absolutely nothing wrong with going for the circular step.
360-degree swivel seat
This model also comes with an all-around swivel seat, which some individuals find practical when it comes to easy entry and exit. The seat slide and recline can be adjusted to fit users from 4'6″ to 6'4″ and up to 400 lbs.
It's also fitted with orthopedic foam and a proper, lumbar-support backrest, for optimum comfort for those that need it.
But again, it's just a preference thing. If you would much rather go for the fixed seat, then there's a model with that option as well.
Adjustable display
The LXT-700 also features a color-coded display with easy-to-read workout data to motivate and Track progress.
Built for your home
The reason why this model is a favorite when it comes to physiotherapy is that it's made it easier to perform it in the comfort of your home!
Its compact size makes it easy to fit through doorways and set up in any room. The rear is filled with roller wheels for easy movement.
Long story short, it's a great fit for your home gym and works best for the elderly.
Body Champ 3-in-1 Exercise Machine
This multi-purpose recumbent cross trainer is actually three functions all put into one machine.
Elliptical trainer
The first off the list is an elliptical trainer. The smooth, magnetic flywheel system results in a frictionless and adjustable motion that doesn't put extra stress on the joints while stimulating the flow of natural walking or running.
Upright stationary bike
The Body Champ also offers the simple, upright bike for some basic exercise routines for those that are going all out in their cardio.
Recumbent bike
Alongside the upright bike is the recumbent bike; with the reclined backrest and handlebars attached to the seat. The recumbent is best suited for a more laidback but still intense workout session.
Easy Transitions
These three exercise options in one machine don't really require you to dismount every time you want to change things up.
All you need to do is switch up your hand and foot positions according to what you want to do and adjust the magnetic resistance to your preference in whatever routine you're performing.
Other features
This unique and compact fitness glider comes with 3 different sets of integrated handlebars to choose from U-shaped (with heart-rate monitor system), dual-action (traditional elliptical style), and wraparound (at base of seat).
You'll only need one!
This is a great option for home gyms because you get the perks of three different exercise types in one purchase! No need to make extra space for other equipment, just one of these is a whole gym session in itself.
Here's a Budget version: Body Power 3-in-1 Exercise Machine
The Body Power 3-in-1 Exercise Machine is a more affordable version of its Body Champ counterpart.
Like the Body Champ, it's a multifunctional recumbent cross-trainer.
We have the traditional, upright bike, the elliptical, and the recumbent bike.
Same added features
The Body Power version of the 3-in-1 also comes with three different handlebar options and a heart-rate monitor system.
Its compact size and range of functions make it a great addition to an at-home gym set-up.
In Conclusion:
If I were to suggest the best recumbent trainer that you can buy today, it would definitely be the Teeter Power 10. It's not just the larger ergonomic seat or the muscle targetted multi-grip handlebars. What I really love about the machine is the true full-body workout that you don't get anywhere else.
I've only ever had the best experience with my Teeter Power 10. I rarely have to use any other trainer or exercise machine to complete a satisfying workout at home.
However, if you're looking for a more budget-friendly option, then the Body Power 3-in-1 Exercise Machine is a great pick as well.
At the end of the day, no matter which machine you end up buying, a low-impact workout will work wonders for you.
As a senior, you deserve to enjoy every second of your golden years!
So what are you waiting for? Get exercising today.
Trust me, your knees and joints will thank you!