When you are at the gym, you can't help but notice that people come in all sizes and shapes.
I've seen dudes that were 6 foot 6 and probably weighed close to 400 lbs, but they didn't have an ounce of fat on them!
You will also see very thin people, who would qualify as "average" to most people, and some who were obviously very overweight.
OUR TOP CARDIO PICKS
Teeter FreeStep L3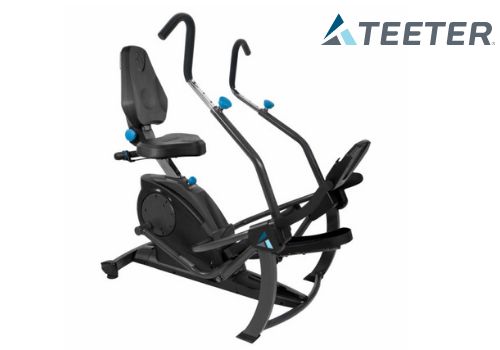 Check Price
Teeter Power10 Elliptical Machine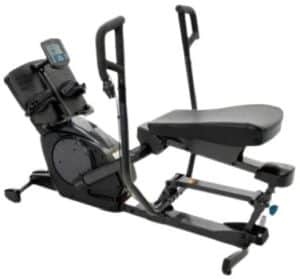 Check Price
Xterra Fitness FS3.0 Elliptical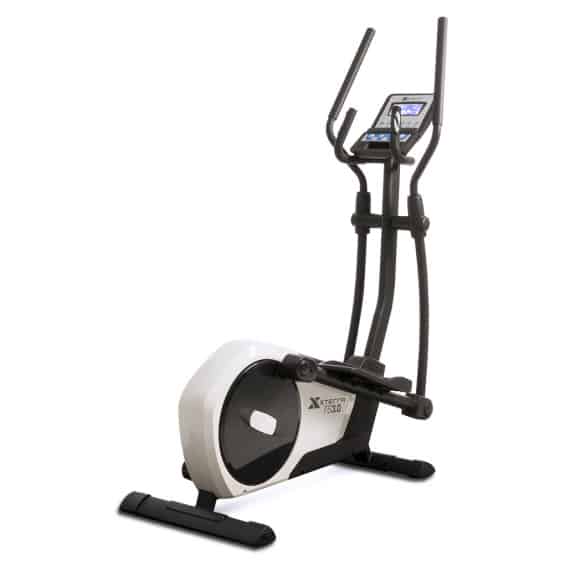 Check Price
Xterra RSX1500 Recumbent Stepper
Check Price
Schwinn 430 Elliptical Machine
Check Price
Bowflex Max Trainer M3
Check Price
Marcy Magnetic Elliptical Trainer
Check Price
Regardless of what category you fall into, the fact remains that larger people enjoy using ellipticals as well, so why don't companies make high-weight capacity elliptical machines?
I don't have an answer to that one, but the good news here is that when I needed a recumbent elliptical, I did a great deal of research so that I would get the best, most effective machine I could for my workout.
What does this mean for you? I'm going to list the best maximum weight capacity elliptical trainers so that you don't have to spend hours doing the work, making charts, and all that.
OK, so maybe most other people are not as OCD as I am, but nothing is more depressing than getting all excited about your new recumbent bike or elliptical only to discover once you have it home that it wasn't made to support your weight.
Ellipticals are low-impact exercise machines that nearly everyone can use, so why wouldn't you want the best possible heavy-duty elliptical trainer for your home gym?
Keep reading for a few minutes, and you will save yourself tons of time and trouble. I've got a list of the best elliptical machines that can handle 300 lbs or more.
The Teeter FreeStep L3 Heavy Duty Elliptical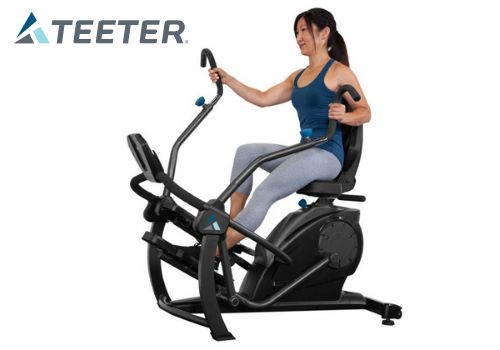 I'm betting that you have seen similar machines in a hospital setting, or maybe you've actually used one in physical therapy.
This is a recumbent elliptical, which means that you can sit down on a seat that has a backrest and still get an outstanding cardio exercise workout.
The FreeStep L3 is considered a cross-trainer because you can work out using just your legs or just your arms, if you wish.
In addition to the very comfortable seat, I love that the FreeStep uses a linear motion for your legs. This means that it is much more like your natural walking stride.
Many elliptical trainers and recumbent bikes (see our top recumbent cross trainers for seniors ) use a circular motion for your legs, which can bother your knee joints. That is certainly not true with the Teeter FreeStep.
If you want to lose weight, you can definitely accomplish that goal with the smooth workout experience you get with the Teeter FreeStep.
Some of the best features of this elliptical machine include:
The weight limit is 300 lbs, so you know this is a sturdy machine
It uses magnetic resistance, so there is zero friction resistance
Operating with magnetic resistance also means that this elliptical cross trainer is virtually silent
You can change the resistance levels with the turn of a knob
Every part of this elliptical trainer is adjustable, including the seat, the backrest, the handles, stride length, everything! Try getting that out of a budget elliptical!
The digital console is simple and easy to use. It will track your time, distance, speed, and calorie-burn
The Teeter Move fit app is 100% free to use. This means that you get to enjoy all the free training workouts that Teeter has to offer without the annoying monthly subscription fees that usually come with high-end fitness products!
Assembly is also incredibly easy with Teeter's 3D BILT video instruction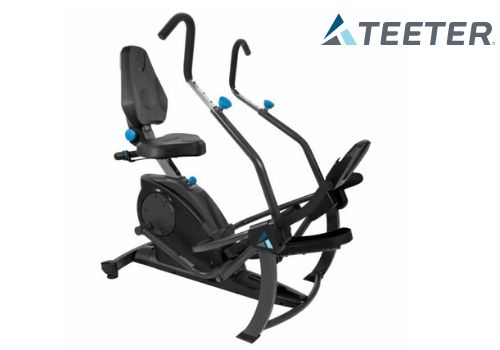 This full-body workout machine has transport wheels so you can easily move and store it elsewhere if you wish.
Did I mention that Teeter offers US-based customer support via the phone? Yes, you're never alone in your fitness journey with Teeter FreeStep.
That's why I love the Teeter FreeStep elliptical cross trainer, which was the machine I used while my back injury healed!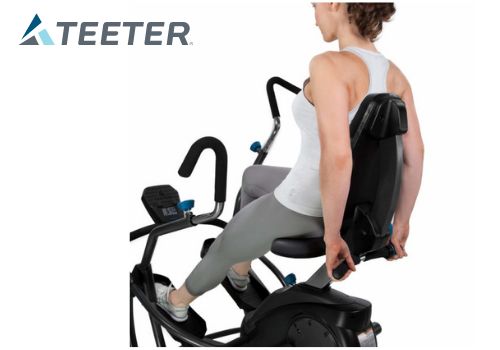 If you think a recumbent elliptical is for senior citizens and that it doesn't offer a real workout routine, think again! You will burn calories and really work up a sweat, all while comfortably seated.
For anyone who wants bigger weight limits on their elliptical and workout programs that are completely free, you can't beat the Teeter FreeStep L3.

How Much Weight Can an Elliptical Machine Hold?
That would depend on the manufacturer.
I have seen one heavy-duty elliptical that stated it had a weight capacity of 500 lbs, but the majority of elliptical machines have a limit of 300 lbs.
I mean, seriously, can you call a device that holds only 200 lbs a heavy-duty elliptical trainer? I think my MIL weighs more than that!
The Teeter Power10 Rowing Elliptical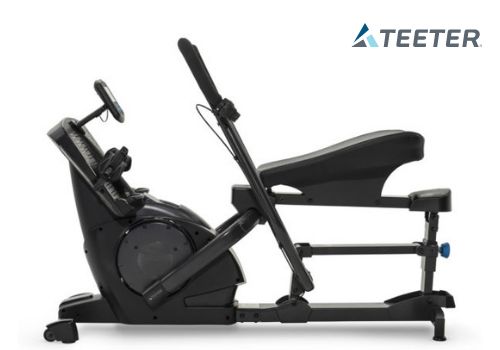 I call this elliptical machine a rowing elliptical, but I believe Teeter calls it an elliptical rower.
No matter which wording you prefer, I know one thing, you are going to call this machine a monster workout!
The Teeter Power10 is unique in its class as there really is nothing else like this fitness machine.
While it simulates rowing, the handlebars do so much more than just make you pull. You can both pull and push, which translates to zero rest time as there is with a rowing machine.
The multi-grip handles are padded for comfort, but I was amazed to discover that simply by changing your hand to another position on the handle, you end up working different muscle groups!
Unlike most elliptical machines, you aren't moving your legs up and down, but you are pushing back as you would if you were rowing. This means zero impact on your knees and hips!
A few other things you should know about the Power10 include:
The weight limit is a generous 300 lbs
There are 7 levels of magnetic resistance
Magnetic resistance gives you a smooth but almost silent operation
The seat is padded and adjustable for extra comfort
The handles are also adjustable
A chest-strap style heart rate monitor is included
This elliptical machine comes with a heavy-duty steel frame
Has a compact footprint for smaller spaces
The Teeter Move fitness app has a wide range of workout programs that are completely free!
The LCD display tracks time, strokes/minute rate, total strokes, distance, calories burned, and pulse. There is also a timer to count up or set a time goal and have it count down. I love the quick set time buttons (2, 5, or 10 minutes) and a mode button that allows you to set a time, distance, or calorie goal.
This is one of the best heavy-duty elliptical machines that I've ever seen. It's great for all fitness levels, so don't let it frighten you if you're a beginner.
While it doesn't have a backrest, this is good news if you don't need one since it will force you to really work those core muscles and help you lose belly fat. Who doesn't want to do that?!
You might find a better machine, but in my opinion, especially for the price, you won't find a better heavy-duty elliptical trainer with free workout programs that will kick your butt into shape than the Teeter Power10.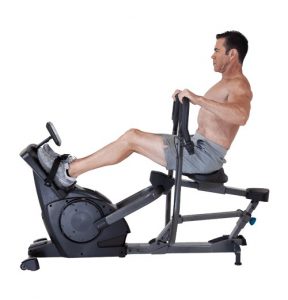 Is An Elliptical Good for the Obese?
They certainly are!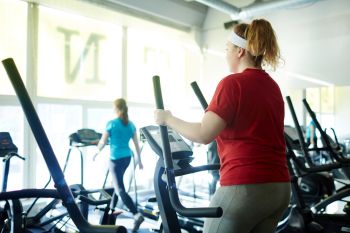 Elliptical machines have the capacity to burn a lot of calories. Depending on what you currently weigh, you can burn as much as 400 calories in 30 minutes.
If standing is a problem, you can always use some of the seated ellipticals or the recumbent ellipticals, such as the Teeter FreeStep or the Teeter Power10.
Ellipticals are easy to use and some of them can handle user weight capacities of 300 lbs. or more.
Xterra Fitness FS3.0 Elliptical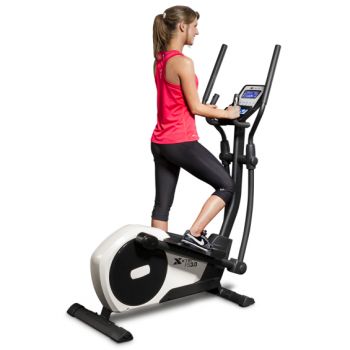 Don't confuse this with the Xterra SUV made by Nissan, this is an entirely different beast! (Although I did try to push one of those out of the mud one time, and that was a real workout!)
What I really like about the Xterra FS3.0 elliptical is that it has so many cool little features that make you think a design engineer at Xterra had used ellipticals before and they added everything that was missing on theirs!
This elliptical machine has a user weight capacity of 300 lbs, so you know it can take some abuse and keep on going!
Check out the features this heavy-duty elliptical has that others don't, such as:
20 levels of resistance and 18 workout programs are included!
You can listen to music or books on tape either via the built-in headphone jack or use the speaker that is included
The almost 6-inch LCD display is backlit, so you don't have to squint to see it
The heavy-duty steel frame has a metallic black powder-coated, rustproof finish so it will always look awesome in your home gym
The foot pedals are oversized and the stride length is a full 16 inches
Magnetic resistance means this elliptical machine won't make a sound as you use it
A tablet or smartphone shelf allows you to keep your device safe and close to you
A pulse rate monitor is built into the handlebars or you can use your third-party heart rate monitor
The Xterra Fitness FS3.0 is a mid-price range elliptical trainer that puts other heavy-duty elliptical trainers to shame with all its features.
I love the smooth workout you get, and the preprogrammed workout routines are a great way to start any fitness journey.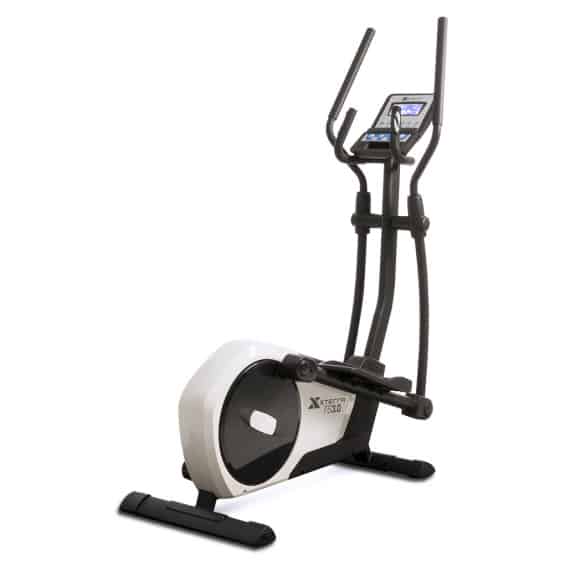 Is 30 Minutes a Day on Elliptical Trainers Enough to Lose Weight?
Yes, it can be.
Of course, if you're going to just slack off and take things easy, you may need to work out for a longer period of time. But if you commit yourself to really challenge your body and check how many calories you have burned in a 30-minute session, I think you will see that, for most people, a 30-minute workout routine is enough to lose weight.
Xterra Fitness RSX1500 Seated Stepper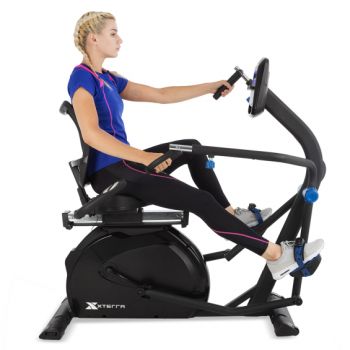 So you love the Xterra Fitness FS3.0 but need a recumbent elliptical. I hear you, and I guess so did Xterra Fitness.
This is perhaps the most budget-friendly recumbent elliptical trainer you will find anywhere.
Perhaps you have not heard about the Xterra Fitness brand before, but I'm betting that's about to change with heavy-duty exercise equipment like the RSX1500 stepper and the FS3.0 elliptical!
Like its brother the FS3.0, the RSX1500 uses magnetic resistance for smooth movement and incredibly quiet operation.
It can be quite hard to believe, but this elliptical trainer has 24 levels of resistance, so you will never, ever feel NOT challenged. I also love that this offers 24 built-in workout programs so you won't be bored.
This outstanding seated elliptical also uses a linear motion, which for many people, is easier on the knees and hips.
Want more? Check out these features:
The weight capacity is 300 lbs
The seat is extra-wide, adjustable, and comfortably padded
The backrest is made from a mesh fabric, so you stay cool
The stride length is 13 inches
The LCD screen is yellow-and-blue backlit for easier reading
Adjustable handlebars make this device really comfortable since you can adjust and personalize everything on it!
The foot pedals are self-balancing, so you won't need to bend down to turn them right side up
Heart rate monitoring is done via the built-in pulse rate handlebars
There are built-in speakers or you can use the audio jack for headphones
If this weren't enough, you won't believe the fabulous warranty that Xterra offers on this workout machine.
Frame- Lifetime Warranty
The Brake- Lifetime Warranty
3-Year warranty on all other parts
1-year labor is included
I can't imagine anyone offering this type of warranty if they weren't really confident in the overall structure of their product.
For those who want a seated elliptical machine that will last for decades, you should seriously consider the Xterra Fitness RSX1500 Seated Stepper.
How Much Weight Can You Lose in One Month with Elliptical Machines?
Doctors and experts suggest that you aim to lose 1/2 to 1 pound per week, which would be about 2-4 pounds per month.
Yes, you can work harder and lose weight faster, but many people find that the weight returns easily if you stop exercising or go back to your old eating habits.
You didn't gain those excess pounds in a month, so it will take you more than one month to drop them, unless you're talking about only 5-6 pounds.
Slow but steady is the best way to lose weight.
Schwinn 430 Elliptical Machine
You are probably looking at the Schwinn name right now and enjoying fond memories of your Schwinn bicycle from your childhood. I know, I did!
This isn't your old exercise bike or even a stationary bike, but rather, this is a heavy-duty elliptical that provides a full-body workout that is easy on the joints.
This is a bit of a budget-priced elliptical when you compare it to some other heavy-duty elliptical machines, but it's not a stripped-down model either.
While Schwinn does make more expensive models, I believe most people would be more willing to buy the 430 elliptical trainer since it's more wallet-friendly.
This elliptical machine offers a full 20-inch stride length, which is more commonly found on higher-priced machines.
It only allows for two user profiles, which is a bummer if you've got a large family, but someone could always use your profile, I suppose.
I like that this has two USB ports, so you can charge your smartphone or tablet and listen to music or watch Netflix on your phone as you work out.
Some of the other cool features of this elliptical machine include:
A user weight capacity of 300 lbs
A built-in cooling fan with 3 speeds; it's so simple but so wonderful!
A full 20 levels of quiet magnetic resistance
Audio jacks for headphones
There are 22 built-in workout programs
Dual LCD screens that show you the workout program, as well as your workout data
The footplates are cushioned for more comfort
There are dual handlebars, one fixed set if you only want to work your legs. The fixed handlebars also have built-in pulse monitors to track your heart rate
A built-in water bottle holder
I think Schwinn makes one of the best bicycles in the world, so is it any wonder that they make one of the best elliptical machines as well?
Check out the Schwinn 430 Elliptical Machine. It's a winner in my book!
Is a Recumbent Bike Better than an Elliptical?
Well, this is a matter of opinion, but if you ask me, an elliptical trainer is a better choice.
Why? Because any bike, whether it's a recumbent bike or a stationary bike, only works your lower body.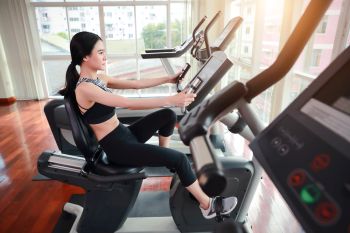 With an elliptical trainer, you always have the option to work the lower half, but it also gives the upper body a good workout.
If you love your recumbent bike, by all means, stick with it, but for a full-body workout that is easy on the joints, you'll want an elliptical cross trainer in your home gym.
BowFlex Max Trainer M3i
Like Schwinn, I'm sure you know the Bowflex name from gym equipment you've used.
The Bowflex Max trainer series has a wide range of elliptical machines that are a great alternative to treadmills, and they are low-impact machines (check out other elliptical machines for your home gym here).
The Max Trainer M3i is the perfect elliptical, even for very overweight users. It has a high weight capacity of 300 lbs, and each workout session will help you drop weight.
If space for a workout machine is a problem, then the Max Trainer M3i is the answer. This has a very small footprint of 25″ wide by 3′ 10″ in length. The transport wheels are super helpful if you need to move or store it.
The M3i has a lot to offer all fitness levels, including:
The maximum weight limit is 300 lbs
There are 8 magnetic resistance levels so you should always feel challenged
A wireless chest strap is included so you can easily monitor your heart rate
The LCD display allows you to create two user profiles
There is a built-in water bottle holder
The media shelf means you can read a book or watch a movie on your smartphone easily
This uses a stepping motion, like a stair climber, rather than a linear motion
There are only two workout sessions, but you can always find other workouts online and put them on your phone or tablet
The display does show when you are in your heart range target zone or whether you are burning calories. For an overweight person, this information is vital!
Personally, I especially like the calorie burn monitor. It looks like a speedometer on your car, and it really motivates you to make it go higher! I enjoy competition and racing. The large LCD display reminds me of a racing video game, minus some of the graphics.
The Bowflex Max Trainer M3i is the perfect elliptical exercise for anyone who wants a low-impact workout and who wants to burn more calories than you could with a treadmill.
What Happens If I do Elliptical Exercise Every Day?
You should always give your body at least one day of rest each week in order to give your muscles time to repair and rebuild themselves.
That being said, if you were to use an elliptical 6 days per week, you will notice that your legs become much stronger, firmer, and leaner.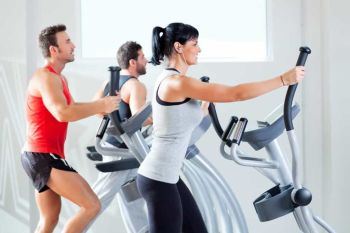 You should also experience weight loss if you're eating a healthy diet and you have extra pounds to lose.
For best results, you should change up your exercise sessions so that your body does not become accustomed to doing the same workout daily and so you don't become bored as well.
Marcy Magnetic Elliptical Trainer
I wanted to include the best elliptical machine that is really budget-priced. I know that you might be a bit skeptical when it comes to budget-friendly exercise machines, but this one by Marcy can take a real beating and keep on going!
This may be wallet-friendly, but Marcy offers a full 2-year warranty, so you should feel comfortable knowing that the company stands behind its product.
I like this elliptical because it does the job you bought it for, even if it doesn't have all the features that a more expensive machine has.
Prop it up in front of your television, put on a movie or your favorite series, and the time will fly by! Well, this works for me anyway!
At this price, you won't get all the little extras you would get from more expensive machines, but for a high-weight capacity elliptical, this puppy packs a lot into a small device.
This elliptical exercise machine offers:
A user weight limit of 300 pounds
The stride length is 14 inches
The LCD display tracks your time, speed, distance, calories burned, and an odometer reading
There are 8 levels of smooth magnetic resistance
The foam-covered handlebars are comfortable
The foot pedals are oversized to fit nearly everyone
Transportation wheels make moving this exercise equipment easy
For both an upper body and lower body workout, this elliptical exercise machine is ideal, even for a heavy person ( see my list of best ellipticals for a heavy person ) since it offers a low-impact workout that nearly everyone can do.
The Marcy Magnetic Elliptical Cardio Workout Machine is a great value for the money and it may be exactly what you are looking for.
What Is the Best Elliptical For a Tall Person?
I get it, tall people, like heavy people, want to know if a machine will work for them or not.
Every machine has different height maximums and minimums, while some pieces of exercise equipment don't list any height limits.
The chart below is for the seven high weight capacity machines that I have reviewed above.
| | | |
| --- | --- | --- |
| 300-Lb Elliptical Machines | User Height Range/Height Limit | User Max Weight |
| Teeter FreeStep L3 | 4'11"- 6'6" | 300 lb (136 kg) |
| Teeter Power10 | 4'8"- 7' | 300 lb (136 kg) |
| Xterra Fitness FS3.0 | 4'7"- 6'2" | 300 lb (136 kg) |
| Xterra Fitness RSX1500 | 4'7″ – 6'2″ | 300 lb (136 kg) |
| Schwinn 430 | Up to 6'2" | 300 lb (136 kg) |
| Bowflex Max Trainer M3i | 4'6″ – 6'6″ | 300 lb (136 kg) |
| Marcy Magnetic Elliptical | 5'1″ – 6'1″ | 300 lb (136 kg) |
For the companies that have not listed a height maximum, you can always contact the manufacturer for more information if you need to.
Do Ellipticals Help You Burn Belly Fat?
Oh, that stubborn spare tire!
Everyone wants to get rid of it, but they kinda like hanging around, don't they? Especially hanging over your belt!
While you can't spot-reduce, you can burn belly fat if you get your target heart rate up (read more on how to burn belly fat on the Elliptical ) and hold it for 20-30 minutes most days of the week.
Remember that you can't exercise away a poor diet, so cut out empty calories, such as potato chips, and eat a healthy, plant-based diet.
At the End of the Day
I hope you found this article helpful and I hope it helped you come closer to making a more informed buying decision.
There are plenty of high weight capacity exercise machines but not as many ellipticals, especially recumbent ellipticals. I hope this article saved you both time and perhaps even gave you a little peace of mind when it comes to making a buying decision.
If you liked this article, please feel free to share it with others.
Enjoy your day and get on that elliptical no matter what you weigh!